March 9, 2005
Edwardsville Intelligencer
The Biggest and the Smallest
by Becky Gehling, Edwardsville Intelligencer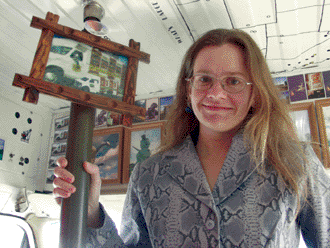 COLLINSVILLE - Unusual items displayed today in Collinsville.

Although Erika Nelson has always fancied the larger things in life, when it comes to her art, she prefers it to fit in her pocket.

Nelson brings her one-woman mobile art display to Main Street in Collinsville today from 10 a.m. to 3 p.m. The World's Largest Collection of the World's Smallest Versions of the World's Largest Things Traveling Roadside Attraction and Museum is, as its world's largest title indicates, a collection of miniatures created by Nelson that replicate some of the world's largest things.

Nelson's attraction to large structures began at the age of 3, the first time her father took the family to see Paul Bunion and Babe the Ox in Bemidji, Minn. It became tradition for the family to take photos under the gargantuous structures each year following. When Nelson's family moved to Missouri, they settled into a town that boasted the World's Largest 8-ball. Nelson believed that every town had something big to show off, and was disappointed to find out that not all of them do.

"I thought every town had them," Nelson said.

Since her youth, Nelson has been "obsessed" with the large scale art, and in the late '90s she began creating small scale versions of some of her favorites.

While shopping for a souvenir at the site of the World's Largest Ball of Twine in Cawker, Kan., Nelson realized that the shop's gift selection was not enough.

"It all started when I couldn't find adequate souvenirs," Nelson said. "I began making models of the places that I love to visit."

Nelson's intricate creations range in size from her small-scale replica of the world's largest egg, which barely clears a centimeter, to some of her first models that are as big as 5 to 6 inches tall.

She currently has created about 57 models, although she says she would like to begin retiring some of the older, larger replicas to focus on small ones.

Nelson's decision to take her models on the road was a natural one. After obtaining a Masters of Fine Arts degree from the University of Kansas, Nelson was offered a job teaching for the University of Pennsylvania. Despite feeling pressure to work the 9 to 5 grind, she chose to explore her artistry on the road visiting small communities with grass roots arts programs.

"I had the contract in my hand to teach at the University of Pennsylvania. Everyone kept saying that I needed to get tenure, and that I should take the job," Nelson said. "But then I asked myself, 'What if I could make it on my own with my own art program?'"

In 2001 Nelson found a bus that was originally a public transportation vehicle for the elderly, and began traveling to small towns that embrace the folk art community. She lived in the bus, which displayed some of her replicas, and it attracted attention.

"People were coming up to the bus," she said "and that's how the Traveling Roadside Attraction began."

In 2003 she took her show on the road, traveling to towns across the United States in search of more of the world's largest things, stopping along the way to give folks a view of the interior of the bus. Inside, Nelson offers archives, photos, a gift shop and other pieces that may not be considered the largest in the world, but are still worthy of display. One of these is a replica of "Car Henge," in Nebraska.

The monument is a twist on Stone Henge, created out of full size cars. Nelson's version is created with Matchbox Cars. She also has the most comprehensive list of what's large and where. The ceiling inside the bus is a map of the world's largest things with markings that indicate sites that she has visited, and objects that she has created on a small scale. This map gives Nelson a visual of where she has been and the work that she has ahead of her.

"I'm at least 50 replicas behind myself, and there's still about 100 more that I have to go see," she said.

And with every trip, another "largest thing" seems to pop up through word of mouth.

"When people realize what my art work is about, they suddenly compile a list of all of the big things they've encountered. It sparks a sense of nostalgia."

Nelson's hope is that this nostalgic feeling will encourage people to revisit some of the communities that offer the world's largest things and also seek towns that they haven't visited. This is why she showcases the replicas.

"My purpose is to get people to travel to rural communities and appreciate some of the atypical things they have to offer," Nelson said. "I'm a strong advocate of people getting out to these places to just stop by. That's what I really want to get across."

While visiting the St. Louis area, Nelson spoke at the City Museum, Venice Cafe and the Bowling Hall of Fame. Today, she will be visiting one of her favorite largest things, the World's Largest Catsup Bottle in Collinsville.

Nelson will park her bus on Main Street from 10 a.m. to 3 p.m. and visit with onlookers as well as a group of Collinsville residents that works to preserve the treasured monument. While most of the art is viewable from the outside of the bus, she will also open up the vehicle to allow visitors to explore the inside.

Following her St. Louis visit, Nelson will continue her 17-day tour to Alexandria, Ind., home of the World's Largest Ball of Paint, described as a baseball coated with numerous layers of paint. Also rumored to be in Alexandria is the World's Largest Ball of Hair, although Nelson does not have confirmation that this wonder still exists. Other fun stops include the World's Largest Rubber Stamp (Cleveland), Elephant (New Jersey), Amish Man (Pennsylvania) and more than a dozen other world's largest things.

Nelson's tour will culminate in Delaware where she will begin a three month residency teaching art classes at the Delaware Center for Contemporary Art.

Nelson features photos, touring schedules, souvenirs and other information about the world's largest things at her Web site, www.WorldsLargestThings.com. Among those items featured in the gift shop is a t-shirt that displays the Collinsville Brooks Catsup Bottle set in a collage of other big attractions.

Marci Winters-McLaughlin/Intelligencer (photo)