Ripley's Entertainment presents: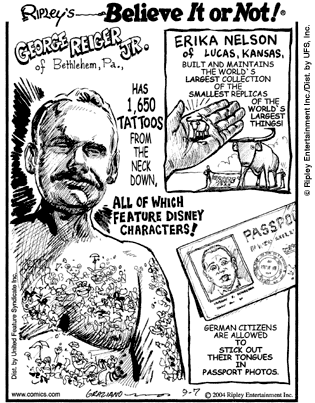 from September 7, 2004
Ripley's Entertainment contacted the Press staff at World's Largest Things mid-2004 for inclusion in an upcoming publication "Eccentric Planet".

After sending in images of the Traveling Roadside Attraction and Museum, not much more was thought about it... after all, books don't get published overnight. Then, while visiting the Grassroots Art Center in Lucas Kansas, the director runs back to the office to get something. She comes back with an article that was clipped out of a San Antonio Texas paper. The clipping was of the above cartoon, sent by the son of a docent who works at the art center. He noticed his mom's tiny Kansas town, and sent it to her.
Look for Eccentric Planet in 2005! Mobile Museum on p. 169(PDF file)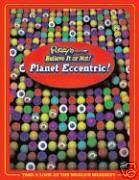 Interested in doing your own story, Dear Reporter?
World's Largest Things
PO Box 101
Lucas, KS 67648

press@worldslargestthings.com
| Home | | Store | | Become a Member | | What's Large Where | | What's New | | Press |
copyright and trademark ERNCO Value Added Products and World's Largest Things