*** NEWS FLASH ***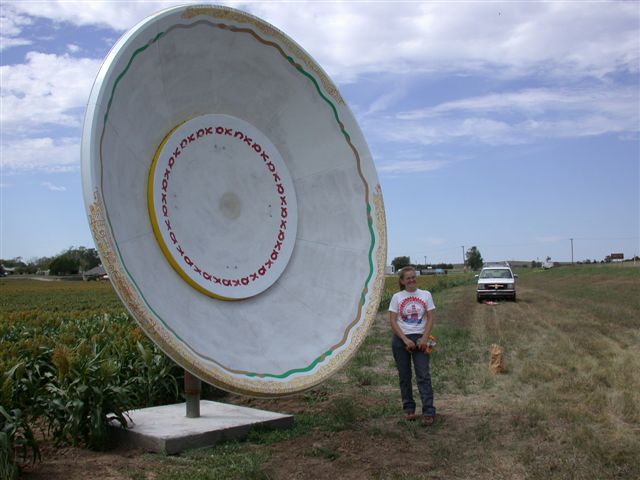 Souvenir Travel Plate Started - Substrate Installed and Ready!
August 14, 2006
That's right, Lucas Kansas will be the home of the World's Largest Souvenir Travel Plate. The City of Lucas crew hauled the 14-foot decomissioned satellite dish to it's new home along K-18 highway, where it will be painted with vignettes of Lucas history, industry, and attractions. Lots of prep work has gone into the project to date, including community brainstorming sessions, engineering troubleshooting, surface prepration, site prepration, and design development and finalization.

Erika will begin painting on the massive monument to tourism late August, through September, and into October, until the surface is worthy of World's Largest status.

So, drive on by and watch World's Largest History in the Making! And, don't taunt the artist...
Thank you, City of Lucas crew, Lucas Arts and Humanities Council, Wilson Telephone, and National Endowment for the Arts!
| Home | | What's New | | What's Large Where | | About Us |