WLCoWSVoWLT and Erika on Conan O'Brian!!!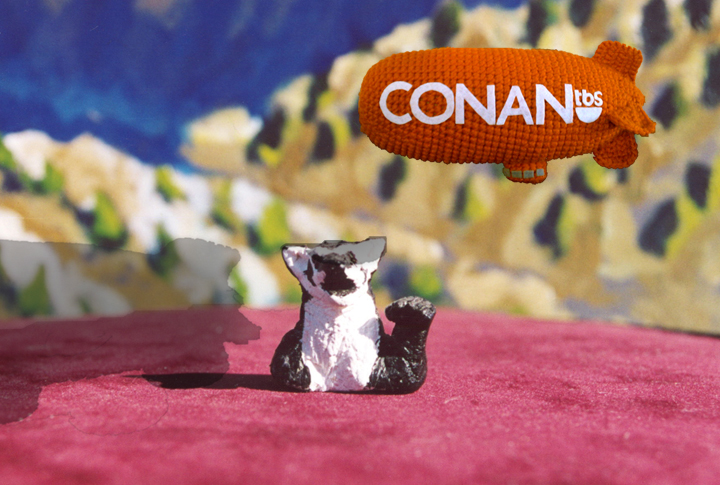 See the original announcement here, and keep tuned to the WLT Inc Blog for up-to-the-moment updates.
NEW Kansas 150 KHC Speakers Bureau catalog
"Folk Art in Kansas" and "Monumental Sculpture in Kansas" are both part of the new roster.

Book a lecture TODAY - One free booking for Kansas Non-Profits while funds last through the Kansas Humanities Council.
Kansas Arts Commission
Erika still on the Artists on Tour Roster, helping small towns build BIG!
2010 Tidbits
Sideshow Extravaganza premiers at MountainFilm in Telluride

We're excited to be a part of the Gallery Walk, Friday May 28th, at MountainFilm in Telluride. Our new Sideshow Extravaganza featuring the WLCoWSVoWLT will be in full mini-swing!
Thing-A-Day, February 2010

We wrote out the backstory of the development of the WLCoWSVoWLT on yet another blog, as a part of Thing-A-Day, a global push to create a new thing every single day of February 2010.

Visit our newest blog WLCoWSVoWLT Thing-A-Day on Posterous for some stories from the road.
Hand-Drawn Book, On Tour 2010

During the winter months, we filled an 80-page sketchbook with drawings and stories about the World's Largest Collection of the Worlds Smallest Versions of the World's Largest Things Traveling Roadside Attraction and Museum.

Now, the hand-drawn fully illustrated story is a part of the Sketchbook Project, with showings across the U.S. Peruse the online pages at our Art House CoOp Sketchbook Page, or see it in person at one of the upcoming venues:

January 29 - 30, Art House Gallery, Atlanta Georgia
309 Peters St, Atlanta, GA 30313
Jan 29th: 7:00-10:00pm, Jan 30th: 12:00-4:00pm

February 19 - 21, 303 Grand, Brooklyn, NY
303 Grand St., Brooklyn, NY 11211

February 26, Brooklyn Art Library, Brooklyn, NY
201 Richards St., Brooklyn, NY 11231

April 8 - 11, Art and Shelter Gallery at The Salvation Army Alegria, Los Angeles, CA
2737 W Sunset Blvd, Los Angeles, CA 90039

April 16 - 18, Soulard Art Market, Saint Louis, MO
2028 S. 12th St, Saint Louis, MO 63104

May 7 - 9, Home Gallery, Chicago, IL
1407 E. 54th Place, Chicago, IL 60615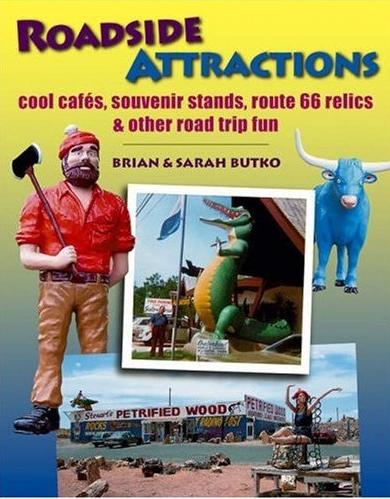 * NEW Roadside Attractions book * featuring the WLCo/WSVo/WLT and more fun stuff from the road.
Brian and Sarah Butko are experts on all things large, and have created yet another handy guide to roadside oddities...
** 2008 Year in Review **
We started blogging in '07, so most of '08 can be found on the Corporate Blog
** 2007 Year in Review **
Read the rest of 2007 in the 2007 Year in Review page.
** 2006 Year in Review **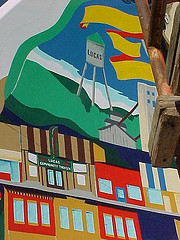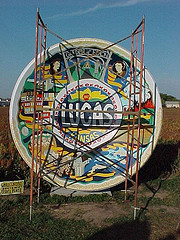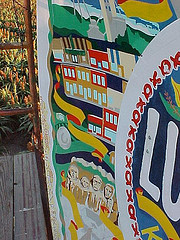 * World's Largest Souvenir Travel Plate *
Photo blog of the NEWEST World's Largest Thing project.

Read the rest of 2006 in the 2006 Year in Review page.
Activists, Art Cars, Teepees and Tour Books featured in the first part of Aught Six...
** 2005 Year in Review **
See the rest of Happenings from 2005 in the new 2005 Year in Review page.
Zippy the Pinhead, Flaming Amtraks, and The Only Elephant you can Go Through Alive!

Or, go all the way back to 2004 escapades in the new 2004 Year in Review page.
Rare Visions and Roadside Revelations, Oranges, and the search for Oxen Statues that Pee!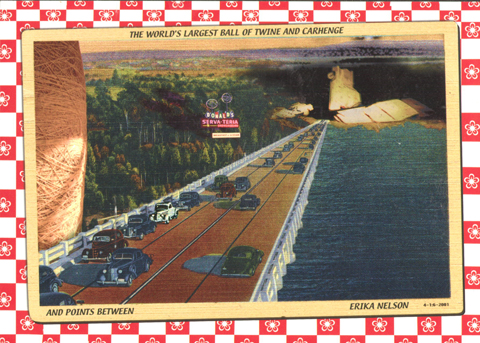 Recent Tours and Trips
Kentucky Trip
Eastern Tour
Washington Tour
California Tour
Oklahoma Tour
Minnesota Tour

Articles
Lucas-Sylvan News May 3, 2007 Topeka Capital-Journal April 22, 2007 Museum Outreach, March 2006
Zippy the Pinhead August 19, 2005
St. Louis Post-Dispatch March 14 2005
Ripley's Planet Eccentric full page PDF p. 169
Germany's art: das kunstmagazin Juni 2005 (little pdf)
Delaware News Journal April 15 2005
Rare Visions and Roadside Revelations Season 9, Episodes 1,2, and 4 Airing 2005
Roadside America
Ripley's Believe it or Not! September 7 2004
Tulsa World June 22, 2003
Kingsburg Recorder March 19, 2003
Salina Journal August 18, 2002
Paul McCrae's website devoted to Art Cars
complete list available on the PRESS page

Happy Travels!


To Schedule an Interview, or Book a Stop contact:
World's Largest Things
PO Box 101
Lucas, KS 67648-0101
785-760-0826

info@WorldsLargestThings.com
copyright and trademark 2008 Worlds Largest Things Incorporated