Two new ways to bring World's Largest to your town!
You can Build a World's Largest for your community
or schedule a workshop or brainstorming session with Erika Nelson
through the Kansas Arts Commission Arts on Tour program
or
Schedule a Lecture all about World's Largest Things
through the Kansas Humanities Council Speakers Bureau.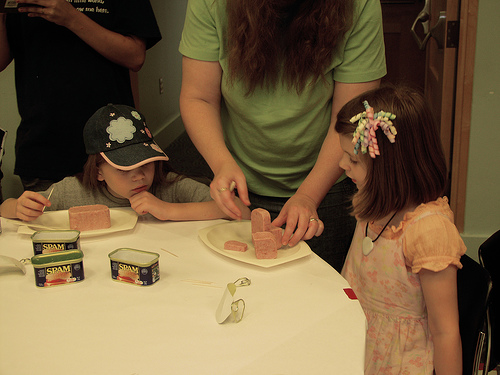 SPAM Carving Workshop, Topeka Shawnee County Public Library, July 2007
Photo credit: TSCPL - more on their Flickr Photo Set

Workshops, community icon development, and brainstorming through the Kansas Arts Commission Arts on Tour Program:

The Kansas Arts Commission offers this roster of Kansas performing, visual and literary artists who will tour throughout the state during Fiscal Year 2009. Artists are reviewed and recommended by expert panelists and then are available to present concerts, performances for young audiences, workshops, master classes and other events in Kansas communities.

The Commission supports Kansas Arts on Tour events between July 1, 2008, and June 30, 2009. Communities, schools and universities may apply for reimbursement of 40% of the fees Kansas Arts On Tour artists charge.

Erika's program information and fees: Visual Arts: Erika Nelson

More infomation about their program online: Arts on Tour Program
---
Lectures through the Kansas Humanities Council Speakers Bureau:

Available to community groups, non-profit organizations, and universities at a greatly reduced rate. To bring a speaker to your community, find Erika's lectures on Folk Art and Monumental Sculpture on p. 19 in the current catalog (downloadable PDF).

"How to plan your program" is on page 2 and the booking request form is on page 5.

More information about Humanities Council program online: Speakers Bureau
---
Non-Kansas entities can schedule lectures and workshops by contacting World's Largest Things directly.
Additional lectures cover a wide variety of topics, including discussions on roadside architecture and tourism, cultural identity development as illustrated by roadside attractions, contextual discussion of World's Largest Things in both established art practices and outsider art environments, and the desires and drives of people and places that make World's Largest Things.

Available Lectures:

THE WORLD'S LARGEST COLLECTION OF THE WORLD'S SMALLEST VERSIONS OF THE WORLD'S LARGEST THINGS - ART INTERSECTIONS
As an art object in and of itself, the traveling roadside attraction blurs the lines between art object, site-specific installation, performance, and public art. Lecture examines the new terrain being explored in the gray areas. Speaking from insider and outsider points of view, the lecture blends contemporary art issues with primary research gathered on the road.

WORLD'S LARGEST THINGS - ROADSIDE ATTRACTIONS AS CULTURAL IDENTITY
Roadside Attractions in a cultural anthropology context. Examines the search for a cultural identity through the roadside attraction phenomenon from national, regional, and civic viewpoints. Lecture includes motivations for production, public interaction and acceptance, and some of the more colorful battles that parallel the American spirit.
**THIS LECTURE NOW AVAILABLE through the Kansas Humanities Council's Speakers Bureau. You can book this specific lecture through their site (if your organization is in Kansas!)

WAXING AND WANING OF WORLD'S LARGEST THINGS - A HISTORY OF ROADSIDE ATTRACTIONS' RISE AND FALL
A look at the rise, decline, and rise again of the World's Largest Things phenomenon. Born in the travel culture of the 1950s, the life of Roadside Attractions ebb and flow with the asphalt structures that gave them birth, reflecting the tendencies of the American tourist. See their continued evolution as a result of the advent of the interstate system, and how some survive, and some die.

SLIDE SHOW EXTRAVAGANZA
Showcasing an amazing array of larger than life livestock, beasts, edibles, legends, it's a look at what Big Things exist where in the Midwest. A fast-paced road tour that would normally take years to accomplish is presented in 45 minutes or less, complete with dramatic interpretations and stories from the road.
(A small version of this lecture is included with all of the above lectures.)


To book a speaking engagement or schedule an on-site workshop
in association with "The World's Largest Collection of the World's Smallest Versions of the World's Largest Things", contact:
Erika Nelson
PO Box 101
Lucas, Kansas 67648-0101
785-760-0826

info@worldslargestthings.com
copyright and trademark 2008 Worlds Largest Things Incorporated