June 22, 2003

A Tiny Bit of BIG: Artist examines how young cultures celebrate by supersizing it


Turn away from the multi-laned super-slabs of asphalt, the ones decorated only with orange barrels and billboards.
Seek out the roads less traveled, the highways and the byways that take travelers through, rather than around, this country and its people.
That's where you're more likely to find these treasures, these icons of American identity, ingenuity, audacity, temerity, obstinacy, silliness and pride.
Maybe it's the World Largest Ball of Twine -- or at least, one of the World's Largest Balls of Twine (there are three claimants to the title). Perhaps it's a huge sculpture, like the World's Largest Bull, located in Iowa, or Bemidji, Minn.'s World's Largest Sculpture of Paul Bunyon and Babe, the Blue Ox.
Or it could be something that simply defies anything other than a simple description, like the World's Largest Re-creation of the Ancient Site of Stonehenge Using Cars Instead of Huge Planks of Rock -- the so-called Carhenge, located in the wilds of Nebraska.
Don't have the time, money and sense of direction necessary to track down all these natural and man-made wonders? Then just drive a couple of blocks east of downtown Tulsa, to the home of Living Arts of Tulsa.
Erika Nelson has a few things to show you.
Nelson is the creator, curator and chauffeur of "The World's Largest Collection of the World's Smallest Versions of the World's Largest Things," a traveling museum of replicas of these gigantic gewgaws of Americana.
She is in Tulsa through the end of this week, taking part in Living Arts of Tulsa's summer art camp, leading classes for local youngsters in sculpture and performance art.
The Myers Gallery at Living Arts currently features Nelson's installation exhibit, "Domesticated: Deconstructing the American Dream," which will exist until Saturday. (More on that choice of words in a moment.)
And then, of course there is the ... well, the "WLCo/WSVo/WLT," to use Nelson's own acronym.
The museum is housed in what once was a small bus, which also serves as Nelson's principal living quarters
More specifically, the museum's displays fill the windows of one side of the van -- tiny versions of the World's Largest Loon, the World's Largest Ball of Rubber Bands, the World's Largest Bull, the World's Largest Pecan. The display also includes photographs of the replica juxtaposed with the actual object.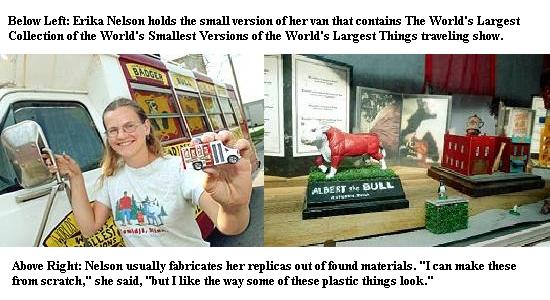 Inside the van is a table and bench seats that serve as the "visitor's lounge area" and a cabinet that serves as the museum's "reference library."
And on the ceiling is a map of the United States, strewn with white circles and black spots, some of these with dots of red in the middle.
"The circles are places I haven't been to yet," Nelson explained, "the black spots are the places I've been to, and the red means I've made a replica of that object.
"You'll notice that there aren't that many sites as you go west," she said, trailing a hand across the Rocky Mountain states like Wyoming and Montana. "It's not 'til you get to California that things pick up again. California has a lot of sites, and of course Texas, because they have that claim that everything is big in Texas.
"But Minnesota and Wisconsin -- it kind of looks like those states have been hit by a shotgun blast, there's so many sites there," she said.
Oklahoma even has a few of the World's Largest Things: the World's Largest (and Only ) Golden Driller; the World's Largest Blue Whale, outside Catoosa; and the World's Largest Totem Pole, near Foyil.
And Oklahoma City has the World's Largest Tube of Caulk -- so Nelson says. That's one of the sites she hasn't visited yet.
The impetus for creating the "WLCo/WSVo/WLT" goes back to the road trips Nelson's family would take when she was a youngster.
"On every family road trip, there's always a screaming kid that wants to stop and see the roadside attractions, buy the moccasins, see the walnut bowls," Nelson said. "Well, I was that kid. And my parents would on occasion stop, I guess hoping that would appease me. But I just wanted more.
"And when I realized that I could go on road trips on my own when I grew up, I thought, 'Ooo, now I can go see all the places that I missed.' "
In the interim, Nelson earned a bachelor's of fine arts from Central Missouri State University, and a master's of fine arts from the University of Kansas, where she specialized in textiles, installation, assemblage and video art.
All those disciplines come into play in her piece, "Domesticated," a decided skewed look at the empty materialism of what is usually called "the American Dream."
The installation brings together elements that might be found in a typical home in the 1950s or early '60s, yet the work has none of comfort or innocence that nostalgia has given this era. Instead, "Domesticated" touches on the separateness and isolation that can occur behind the homey facade.
Matching chairs and TV sets are placed back to back, so that each person exists in a separate world.
The "uniforms" of grey flannel suit and tailored dress are shredded, recognizable but useless. Pictures of gaudily colored food creations -- things so full of grease and cholesterol one can almost feel one's arteries harden just looking at them -- adorn the wall next to the legless dining room table.
Come Saturday, however, this exhibit will end -- literally. Nelson will hold a public auction to sell every item in the exhibit, which she has developed and shown in Illinois and Kansas over the course of two years.
"Part of the reason is storage -- now that I've consolidated my life to this one small environment, this is a tie I no longer need," she said. "And really, I've moved beyond this subject matter. It's time to let go of past issues and move on. I want to focus on the things that excite me."
Nelson made the decision to have no fixed address about two years ago. She was an instructor at the University of Kansas in Lawrence for three years, until "the bottom fell out of higher education, and they could not afford to keep me there," she said.
She was offered a job in Pennsylvannia, teaching for a year while another instructor was on sabbatical.
"And I was sitting there with the contract in my hand," Nelson said, "asking myself, was this what I wanted to do with my life, be a tenure-track professor, or take that one last chance to explore.
"There aren't many times when you're able to choose between what you should do and what you want to do," she said. "So I took the chance to do what I wanted to do."
Now, Nelson has a home base in the small town of Lucas, Kan., near the geographic center of the United States. "I thought it appropriate to be in the middle of everything and nothing," she said.
And she continues to tour the country, working with grassroots arts groups and communities, taking her museum to things like the Art Car Parade (since her bus is, itself, an ever-evolving work of art) and making her way to more of the World's Largest Things.
Nelson believes her museum and what it celebrates could be a teaching tool, to help students understand such concepts as American culture, geography, art and architecture.
"I think this (building of big objects) is a young country phenomenon," she said. "The places where you find these things are the United States, Canada and Australia. These are all places that are, in a way, still looking for their own identity, that for too long have had to define themselves by what they are not.
"And this is way of creating that distinct personality, by creating these big, bold statements," Nelson said. "They are intimidating and welcoming at the same time."

art show
"THE WORLD'S LARGEST COLLECTION OF THE WORLD'S SMALLEST VERSIONS OF THE WORLD'S LARGEST THINGS"

Who
Erika Nelson

When
5-8 p.m. Thursday and by appointment, 585-1234

Where
Living Arts of Tulsa, 308 S. Kenosha Ave.

Admission
Free

Note
A public auction of Nelson's "Domesticated: Deconstructing the American Dream" exhibit is scheduled for Saturday, with preview at 1 p.m. and auction at 2 p.m.

James D. Watts Jr., Tulsa World 581-8478
info@WorldsLargestThings.com
| Home | | Store | | Press | | About Us | | What's New | | Become a Member | | Schedule a Visit |
copyright and trademark ERNCO Value Added Products and World's Largest Things