WLCo/WSVo/WLT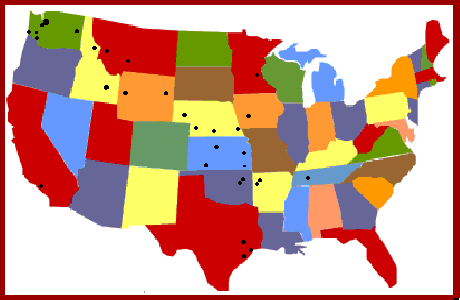 2004 - Year in Review

Wow - 2004 flew by, with an action-packed season for the World's Largest Collection of the World's Smallest Versions of the World's Largest Things Traveling Roadside Attraction and Museum. Here's a look back at the Year of the Monkey:


January

New T-Shirt design for World's Largest Things.
World's Largest Things Souvenir Stand goes online


February

New Find! - World's Largest Bottle of Hair Tonic in Tulsa OK
World's Largest Praying Hands in Tulsa OK


March

New models for the collection - ever-expanding, currently at 52 World's Smallest Versions.


April

Issue #3 "Next Exit" hits mail boxes


May

May started off with a home-base interview with KCPTs Rare Visions and Roadside Revelations for their upcomins season of shows celebrating "Things to See in your Own Backyard". I caught up to them in Greensburk KS (home of the World's Largest Hand-Dug Well) on the way to the World's Largest Art Car Parade in Houston Texas.

Another great event this year, full of the country's best wheeled art. As a super-special bonus, and the Traveling Roadside Attraction won third place in the Art Car division! I was in good company, sharing the honor with Flutterbug from Oregon and Plaid Car from New Jersey. The Orange Show website has pics from the big day...

The WLCo/WSVo/WLT then traveled south to Galveston to see the World's Largest Shrimp and World's Largest Crab, then to Beaumont TX for the World's Largest Fire Hydrant.

A few weeks after returning to the middle of the country, the roadside attraction was spotted in Lawrence KS for the Art Tougeau parade.


June

June was a tour of Washington Wonders and the annual Fremont Fair in Seattle Washington.

Tour highlights included:
Carhenge, Alliance NE
World's Largest Jackalope, Douglas WY
World's Largest Steer, Bozeman MT
Oxen Statue that Pees (Gone! In an effort to elevate 'roadside taste...')Three Forks MT
World's Largest Stack, MT
World's Largest Miner's Hat, Kellog ID
Benwah Dairy Milk Bottles, Spokane WA
World's Largest Radio Flyer Wagon, Spokane WA
World's Largest Hat N' Boots, Seattle WA
World's Largest Troll, Under the Fremont Bridge, Seattle WA
World's Largest Coffee Pot, Tacoma WA
World's Largest Egg, Winlock WA
World's Largest Totem Pole, Kalama WA
World's Largest Frying Pan, Long Beach WA
World's Largest Potato, Blackfoot ID
World's Largest Ball of Barbed Wire, Jackson Hole WY
World's Largest Plow, Gothenburg NE

While stopping to take photos of the World's Largest Egg, the bus was hi-jacked by the town of Winlock WA to participate in the Egg Day festivities that were coming up that weekend. Good thing, too, because the bus was a Winner of a Trophy with a Chicken on it, Best of Division Winlock Egg Day Parade!!

We also ran into the documentary filmmakers working on an upcoming homage to all that's oversized: "World's Largest"


July

July once again found World's Largest Things in Minnesota for Intermedia Arts Art Car Parade July 23 and 24th - This year was the debut of Scout - the more practical, gas efficient vehicle used in the exploration of all that's beautifully bizarre along the road.

Slong the way, stopped off for some midnight meta-photos with Albert the World's Largest Bull in Audubon IA.
Ripley's Entertainment contacted World's Largest Things for inclusion in their upcoming book "Eccentric Planet", slated for publication in 2005.
While in Kansas, "Scout" also got to serve as the Lucas Chamber of Commerce float in the annual Czech Fest in Wilson KS, where I spotted a new artcar - "Bugwing".



August

August brought the World's Largest Collection of the World's Smallest Versions of the World's Largest Things to Hastings Nebraska to check out Kool-Aid Days Saturday, August 14th - an annual event with a temporary World's Largest Thing, striving to be recognized as the One and Only World's Largest Kool-Aid Stand. While there, I also served as the official judge of the Kool-Aid Edible Art Contest. Yes, tasting was involved...details and photos soon...


The birthplace of Kool-Aid celebrated its uniqueness by constructing the World's Largest Kool-Aid Stand, serving America's favorite unnaturally colored drink! Other events included an Edible Art Contest (open to all, has to include Kool-Aid in it's construction, accompanied by recipe), Kool-Aid Man, Quickest Drinking Contest, and more!

Check out the recent Hastings Tribune articles from July 29th and August 16th, as well as the Associated Press coverage.

That all led to morning radio interviews on KROQ in LA on the Kevin and Bean morning show, Oldies 95.7 in Knoxville TN on the Ashley and Murphey in the Morning show, and a mention on Marquette Michigan's WKQS Mark and Walt in the Morning show.

Scout visited Omaha's Central Art Car Celebration and Exhibition on August 14th - lotsa cars, and a great event.

Then, Sunday August 15th brought an Art Car Road Trip along Nebraska's Historic Route 6 - Starting in Omaha, traveling through Lincoln and ending in Hastings (once again), Art Cars caravaned to one of Hasting's original roadside parks where the public enjoyed their first Art Car exhibit. Great turnout in a beautiful setting, with action paintings, drivable rats, and only a few mechanical difficulties.


September

Featured on Ripley's Believe It or Not! syndicated cartoon

New WLCo/WSVo/WLT Postcards available

FamFest in Aurora NE


October

Fayetteville Arkansas Art Car Event

Radio interview from the Art Car event in Fayetteville Arkansas on KUAF's Ozarks at Large program.

World's Largest Can of Spinach in Alma AK,
World's Largest Blue Whale in Catoosa OK,
Big Brutus - World's Largest Electric Shovel in West Mineral KS.


November


Webcam interview on G4TechTV's late night talk show Unscrewed with Martin Sargent, Los Angeles
Unfortunately, this was the very last show for Unscrewed with Martin Sergant - there is some question as to whether or not it will be aired... Keep an eye on their site for updated episode information.
Airs November 23rd on G4TechTV - check your cable or satellite listings.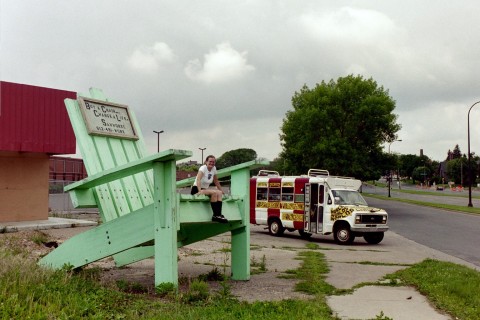 Become a Member!!

The WLCo/WSVo/WLT Traveling Roadside Attraction and Museum depends on member support to keep its wheels rolling.

Want to book a stop for 2005?
World's Largest Things
PO Box 101
Lucas, KS 67648

info@worldslargestthings.com
| Home | | Souvenir Stand | | Become a Member | | About Us | | Press | | What's Large Where | | What's New |
copyright and trademark ERNCO Value Added Products and World's Largest Things