Washington Wonders!
Seattle's Freemont Fair - there and back again...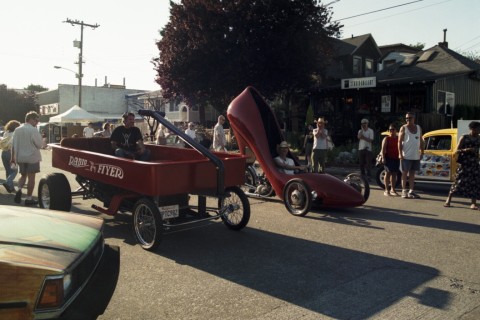 The WLCo/WSVo/WLT's latest adventures took it through the Northwestern U.S., with the main event being Seattle's Freemont Fair Art Car event.

While in the art car section of the Freemont Fair, one of the extra events was an historic never-to-be-replicated drag race between the World's Largest Red Stiletto and World's Largest Motorized Radio Flyer Wagon!!


From Art Cars to Winlock's Egg Day Parade - the WLCo/WSVo/WLT sees it all!!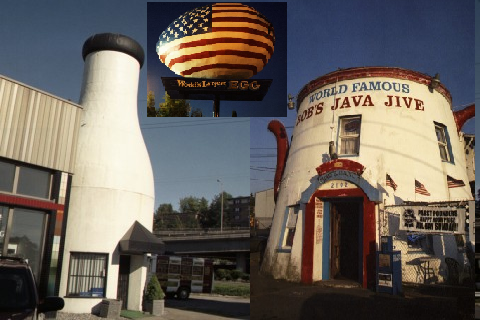 Starting in Kansas, your favorite Mobile Museum saw many wonderous sights on the way there and back, including:

Carhenge, Alliance NE
World's Largest Jackalope, Douglas WY
World's Largest Steer, Bozeman MT
Oxen Statue that Pees (Gone! In an effort to elevate 'roadside taste...')Three Forks MT
World's Largest Stack, MT
World's Largest Miner's Hat, Kellog ID
Benwah Dairy Milk Bottles, Spokane WA
World's Largest Radio Flyer Wagon, Spokane WA
World's Largest Hat N' Boots, Seattle WA
World's Largest Coffee Pot Bob's Java Jive, Tacoma WA
World's Largest World's Largest Egg, Winlock WA
World's Largest Totem Pole, Kalama WA
World's Largest Frying Pan, Long Beach WA
World's Largest Squirting Clam, Long Beach WA
World's Largest Baked Potato, Blackfoot ID
World's Largest Ball of Barbed Wire, Jackson Hole WY
World's Largest Plow, Gothenburg NE

Other super special bonus activities during the trip were visits to Marsh's Free Museum in Long Beach WA, the Winlock Egg Day Parade, a ride on the World's Smallest Ferry from Westport OR 12 miles into the Columbia River to a small island south of Cathlamet WA, and Fort Cody in North Platte NE featuring a wonderfully wee version of Buffalo Bill's Wild West show on the half hour.

Tips? Comments? contact the Museum at:


info@worldslargestthings.com
| Home | | Store | | Become a Member | | What's New | | What's Large Where | | About Us |
trademark and copyright 2004 Worlds Largest Things