Hat N' Boots
Seattle, Washington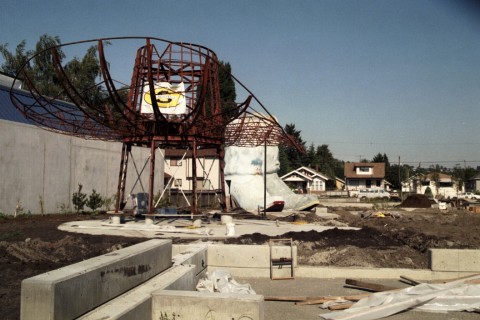 Hat N' Boots is another in the long line of Roadside Icons and the struggle for preservation. A favorite Seattle landmark, the giant cowboy hat and boot bathrooms was a filling station until it 'ran out of gas'. From the official website of Hat N' Boots (www.hatnboots.org):
On March 20, 1956, Lewis H. Nasmyth receives U.S. Patent No. 177,189 for a "new, original, and ornamental design for an article of manufacture." The article in question is the Hat 'n' Boots Premium Tex gas station built in 1955 at 6800 Corson Avenue S on the corner of E Marginal Way near Georgetown. The station office is canopied by a giant cowboy hat measuring 44 feet in diameter, and the restrooms are housed in boots standing 22 feet tall. The original station has nine pump islands fed by two underground 10,000-gallon fuel tanks.

The structure has been relocated for preservation just a couple of blocks from it's original site. The project is the Oxbow Park development project, and the posted sign states:

The scope of this project has increased due to the additional funding from the community. With the addition of a play area and renovation to the Hat N' Boot structures, construction will continue through July 2004. Thank You, Kindly, and Go Team! Please contact Seattle Parks and Recreation, project manager, Andy Sheffer @ 684-4958.

---
Hat N' Boots Stats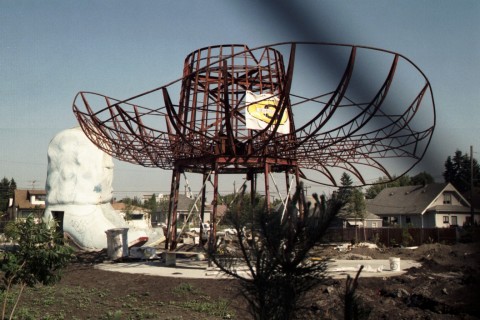 Built in 1947 of concrete an steel, the boots are 24 feet high and 20 feet long. The hat is 22 feet tall with a 45 foot brim of curving concrete on wire and steel. (from 'The Well Built Elephant')

Tips? Photos? Please share:
World's Largest Things
PO Box 101
Lucas, KS 67648

info@worldslargesttthings.com
| Home | | Store | | Washington Tour | | What's New | | What's Large Where |
copyright and trademark ERNCO Value Added Products and World's Largest Things