World's Largest Jackalope
Douglas Wyoming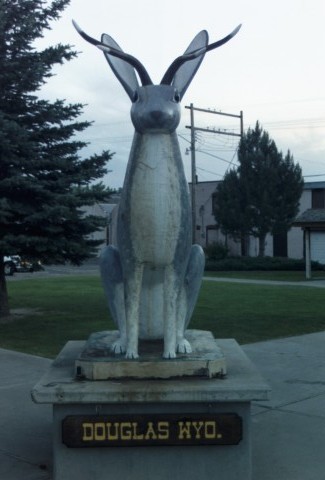 In honor of Wyoming's most elusive animal, Douglas Wyoming has erected a statue of the hybrid creature. Why Douglas, you ask? The creator of the Jackalope, Douglas Herrick, lived in Casper Wyoming, but his hometown was Douglas. Herrick died at the age of 82 in January of 2003 after making hundreds of Jackalopes. He was such an influential figure in the forming of the legend of the west, the New York Times wrote an extended obituary.

I recently received an email from a woman who dated Mr. Herrick, and in the last few years of his life, "...I asked him about his inspiration for the jackalope , and he said he got the idea from his grandfather who used to talk about it when Douglas was very young Douglas was a very good man and we miss him very much . I just wanted you to know how he got the idea for the jackalope." Just a reminder that the makers of legacies are flesh and blood people who have a direct influence on many peoples' lives.

The statue sits in the city park, proudly looking over a nicly preserved downtown, circled by the errant skateboarder. At the city hall you can purchase Jackalope hunting liscenses, valid only on June 31, from midnight to 2 a.m.

---
World's Largest Jackalope Stats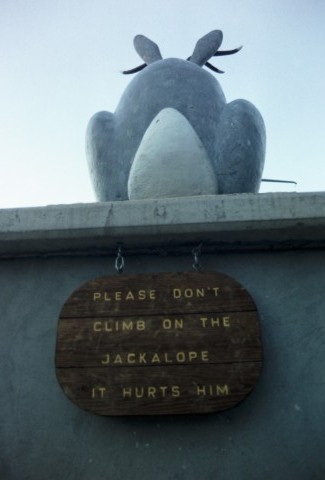 Not much information available for the statue itself if you arrive after normal business hours.... But, the bulletin board on the restrooms has a fair amount of articles about Jackalopes themselves, including an article called "The birth of the Jackalope". The statue seemed to be held down by four bolts, typical fiberglass construction on a steel plate, but that's all I could determine...

I'll post more as I get information.

Tips? Photos? Please share:
World's Largest Things
PO Box 101
Lucas, KS 67648
info@worldslargestthings.com
| Home | | Store | | Washington Tour | | What's New | | What's Large Where |
copyright and trademark ERNCO Value Added Products and World's Largest Things