World's Largest Miner's Hat
Kellogg Idaho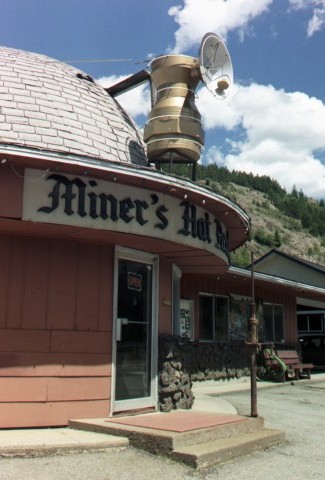 Trying to make time, bookin' it down an (hate to say this out loud) interstate across Idaho, out of the corner of my eye I spot a verrrry interrresting thing... a Giant Miner's Hat! Well, what could I do but slam on the breaks (ok, not slam, more like push mightily while the bus realizes I want it to slow down, sending my sleeping passenger thumping towards the front) and take the next exit.

Not circled on my maps, I was fortunate to pass by one of the great old examples of programmatic architecture... I found reference to it in my 'Well-Built Elepant" book later on, so was happy to learn more.

Functioning now as the Miner's Hat Realty, it was originally a lunch stand serving the surrounding mining population.

From the back of the postcard:
Our doors are always open and have been since 1967. So, stop in, we're the round building shaped like a Miner's Hat. "KEEP YOUR REAL ESTATE AND RENTAL NEEDS UNDER OUR HAT"

In the office, the nice ladies at the desks copied off their wall plaque information too:

LOOKING BACK - This photo shows the unique Miner's Hat Realty building at a time when it was a popular drive-in restaurant. The building was constructed adjacent to Highway 10 in Kellogg during the late 1930s. The neon tube lighting system that creates the image of the carbide lamps used by miners of that era is still burning over the Miner's Hat Realty offices. "Oldtimers" can remember stopping at the restaurant when Marietta Page was preparing "the best food in town." The kitchen was in the northwest side of the building and booths were arranged along the circular walls. The restaurant closed after Interstate 90 was completed in 1963. The structure was remodeled to its present business office status in 1971.

---
World's Largest Miner's Hat Stats
from The Well-build Elephant

Built in 1940 by Mary Etta Page, exterior walls of clapboard, shingled helmet. Light was metal, trimmed in neon, and its flame flickered at night. 36 feet long, 20 feet wide, 20 feet high. In 1967, Ted Reynolds purchased the building, widened the windows, added five rooms, and replaced the clapboard with aluminum siding.

Tips? Photos? Please share:
World's Largest Things
PO Box 101
Lucas, KS 67648
info@worldslargestthings.com
| Home | | Store | | Washington Tour | | What's New | | What's Large Where |
copyright and trademark ERNCO Value Added Products and World's Largest Things