Bob's Java Jive
Tacoma, Washington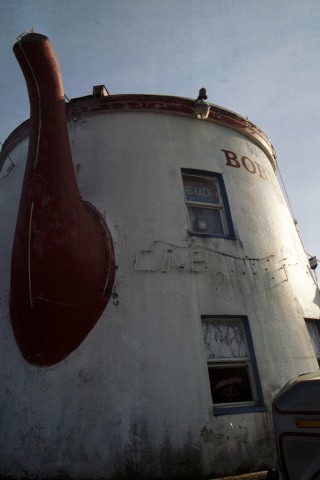 Bob's Java Jive is a great example of a 'Duck' - a building shaped like an oversized object to promote its business. Built in 1927 by Otis G. Button, it was bought by Bob and Lylabelle Radernich in the 50s and has bee in operation since then as a bar/lounge. When we arrived in the early afternoon there were a few regulars hanging around while the owners made ready for the evening's entertainment.


Our bartender was the owner's daughter and former go-go dancer - once she was questioned about the history of the bar, she popped in a tape from the History Channel "Hit the Road" that focused on roadside architecture. There was a long section on the history of the Java Jive, as well as other icons of the American roadside.

Other nice little tidbits from the Java Jive history - there used to be two chimps living in the Jungle room, named "Java" and "Jive", and it is rumored that D.B. Cooper was last seen in one of the bus seat booths at the bar before his infamous 'windfall'.


---
Bob's Java Jive Stats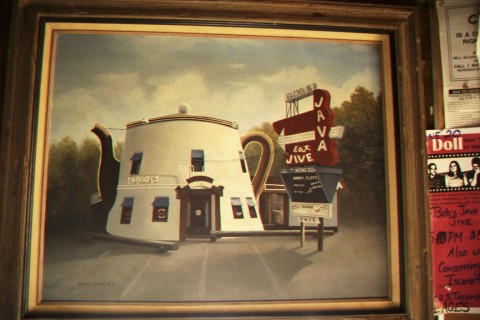 Bob's Java Jive 2102 S. Tacoma Way, Tacoma WA

Built in 1927 by Dr. Button, veterinarian. 25 feet high, 30 feet in diameter, originally a drive-in restaurant. Designed by Bert Smyser, constructed in sections. Wooden frame, white stucco exterior with red trim. Originally contained a resteraunt on the first floor and apartment on the second. (from "The Well Built Elephant")

Tips? Photos? Please share:
World's Largest Things
PO Box 101
Lucas, KS 67648

info@worldslargesttthings.com
| Home | | Store | | Washington Tour | | What's New | | What's Large Where |
copyright and trademark ERNCO Value Added Products and World's Largest Things