World's Largest Baked Potato
Blackfoot Idaho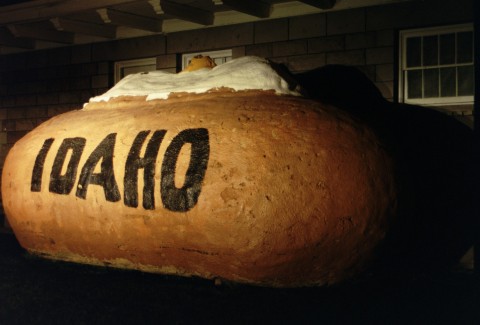 Located in front of the World Potato Expo in Blackfoot Idaho, the World's Largest Potato is a lumber and chicken-wire spray foam covered structure, fairly lightweight, with it's potato eyes enlarged by curious fingers. Originally stopping for a nighttime photo opp, the lure of the potato expo was too much to resist.

Inside the potato expo, you can learn the secrets of the potato industry, see a potato signed by former veep Dan Quayle, see Marilyn Monroe dressed in a potato sack, and view the World's Largest Potato Chip. And, every out of stater gets free taters.

---
World's Largest Baked Potato Stats
Unfortunately, the lady at the desk was unable to contact the person with the answers. It's a big potato. Approx. 8' x 8' x 12'.


I'll post more as I get information.

Tips? Photos? Please share:
World's Largest Things
PO Box 101
Lucas, KS 67648
info@worldslargestthings.com
| Home | | Store | | Washington Tour | | What's New | | What's Large Where |
copyright and trademark ERNCO Value Added Products and World's Largest Things