World's Largest Things Scout Vehicle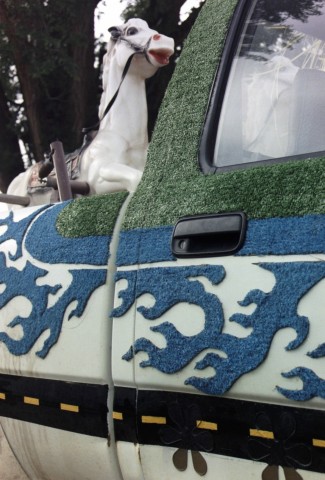 New fleet vehicle in the World's Largest Things family!
More photos HERE!!
The official Scout Vehicle of World's Largest Things makes its debut at the Intermedia Arts 10th Art Car Parade in Minneapolis MN Saturday July 24th. This more fuel-efficient fleet vehicle is the point vehicle for exploring World's Largest Things and Grassroots Art environments. Formerly a white Toyota 2x4 (yes, I know it goes the other way, but it's a funny mental image - I imagine a tiny steering wheel on lumber), the body was compromised in 2000 when I hit a drunk driver. And an ex hit a nun (omen). Since then, it's undergone a complete transformation - it all started with a pair of Wonder Horses, perpetually accompanying my on my journeys. Then, yellow roadstripes were added (fresh off the highway) up the front, with little dinosaurs covered in tar makig up the asphalt texture. The stripe continues up the top, back into a mohawk of hay-colored hair for the horses, who ride in a flower festooned pasture of astroturf. The sides are embellished with the official Scout slogan "Combating Genericana" on the passenger side and a mural devoted to World's Largest Things and Grassroots Art environments from across the country. Astroturf flames hearken back to car culture, with the color scheme sticking roughly to a road-inspired palette.
Celebrating Americana, Combating Genericana
Both fleet vehicles are still listed as "White" on their insurance and registration.
| Home | | Store | | Become a Member | | What's New | | What's Large Where | | About Us |