World's Largest Can of Spinach
Alma Arkansas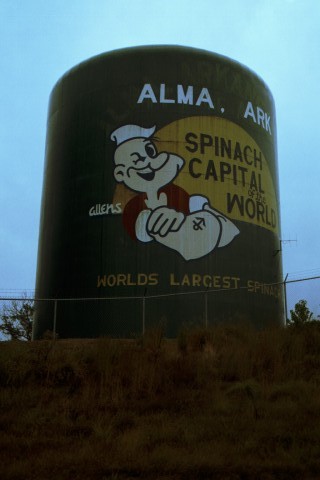 My first visit to Arkansas' World's Largest Things was in a sadly undecorated bus, pre-traveling roadside attraction days. The very large can of spinach was spotted just after viewing the Popeye statue in Chester, home of (well, duh) Popeye. So, the spinach can wasn't too much of a suprise, but also represents the industry of the area. Allen Canning Company canned about 65% of the spinach canned in the US. When a couple of locals were talking about how to get more tourists to stop in Alma, they used this fact to springboard lotsa spinach-related civic projects.

Another in the Watertower Wonders section, this can is a creative use of an otherwise uninteresting watertower shape. Although not elevated by a tower, the watertower/spinach can sits above the general population by way of a hill - it, and its unpainted mate, are on one of the highest points in the town.

My second visit happened in 2004, on the way back from an Art Car event in Fayetteville -the bus was then fully painted in it's circus motif, and I got to do one of the things I like to do best - take a Meta-Photo of my World's Smallest Version of the World's Largest Can of Spinach with the original World's Largest Can of Spinach. There were two young boys riding around the closed water park, asking questions about the bus, and asking why I was there. I said, "Because you have a World's Largest Thing here..." They said "What World's Largest Thing?" I showed them the World's Smallest Version. They said "Hey - that's right there on top of the hill." I said "I know - that's why I'm here..."

World's Largest Can of Spinach Stats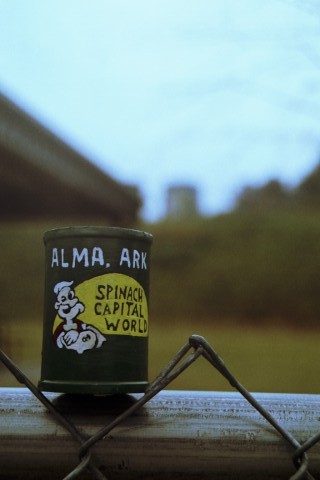 Watertower Wonder! Capacity: a million gallons
Painted by William Bland, commissioned in 1991
Tips? Photos? Please share:
World's Largest Things
PO Box 101
Lucas, KS 67648

info@WorldsLargestThings.com
| Home | | Store | | Become a Member | | What's New | | What's Large Where |
copyright and trademark ERNCO Value Added Products and World's Largest Things