Kansas City Public Television's

and the World's Largest Collection of the World's Smallest Versions of the World's Largest Things!!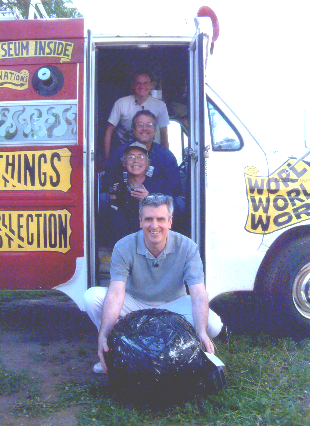 The Rare Visions and Roadside Revelations guys caught up with the WLCo/WSVo/WLT Traveling Roadside Attraction and Museum in early May, 2004. Filming first at the home base and docking stationin Lucas Kansas, they also caught up to me (or vice versa) in Greensburg Kansas at the World's Largest Hand-Dug Well, Mullinville Kansas home of M.T. Liggett's grassroots art environment, and at the 2004 Houston Art Car Parade.

For those of you unfamiliar with Rare Visions and Roadside Revelations, it's a production of KCPT in Kansas City. It started out as three guys in a van looking for the odd and unusual on the biways of the Midwest. After rave reviews and some Emmys for their first few seasons, they've traveled in ever-widening circles around the US. Now, 10 years later, they're editing their 9th season for early 2005.

You can find out more on their website, as well as order videos or DVDs of their adventures. They also have a great interactive site o' sites at Rare Visions Road Trips, highlighting the places they've stopped in recent years. The show has been picked up by other PBS stations, too, so check your local PBS listings for show times.
Don the Camera Guy in Houston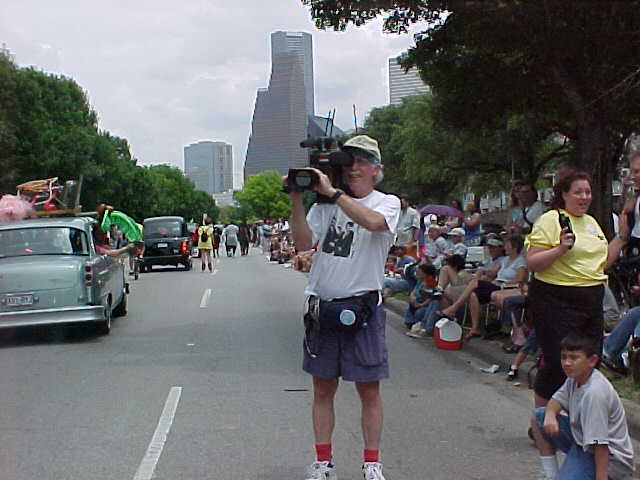 The Rare Visions Crew:
Don the Camera Guy (sore shoulders, funny voice)
Mike Murphy (TV Weasel and Identifier of Alternative Art Components)
Randy Mason (TV Weasel and Queasy-Traveler-Unless-Driving)
Tips? Photos? Please share:
World's Largest Things
PO Box 101
Lucas, KS 67648

press@worldslargestthings.com
| Home | | Store | | Become a Member | | What's Large Where | | What's New | | Press |
copyright and trademark ERNCO Value Added Products and World's Largest Things