Minnesota Tour: Art Car Parade and World's Largest Things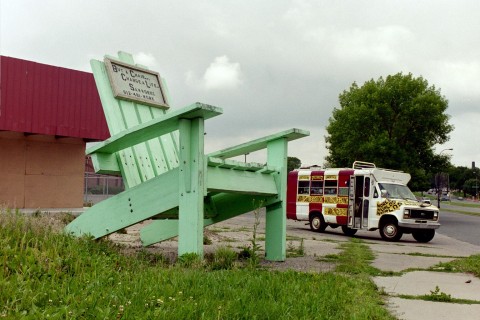 July 3 - 8, 2003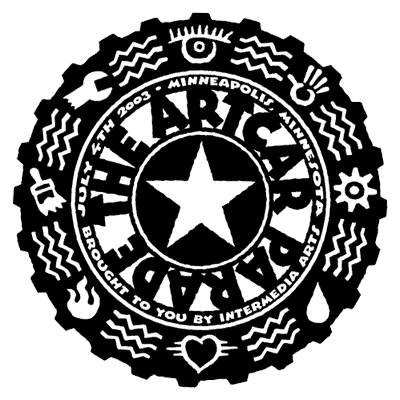 Minnesota – the Land of 10,000 Lakes, and a Whole Lotta World's Largest Things. As some of you may already know, Minnesota awash in monumental architecture. Maybe it's the winters, maybe it's the mosquitoes, but when you look at a map of world's largest, there's a shotgun blast that concentrates in the upper Midwest.

July 3rd : Intermedia Arts Art Car Cabaret on Wheels
An evening of art car related performances and lectures – along with an amazing cast of characters including Diesel, Patron Saint of Hubcaps, The Unruly Julies creating an art car in 5 easy steps, and a 3D Art Car slide show, I talked about The Drive to Embellish: Combating Genericana.

July 4th: Greenway Parade of Arts Art Car Parade – a whole cast of cars parading through downtown Minneapolis – it's always a wonderful sight. Their 9th annual event, there were around 60 entrants, including the Mayor and Minnesota's US Senator.

July 6th – 8th: Mini Minnesota Tour of World's Largest Things

Just a quick trip, but there's such a large concentration, there were plenty of stops. And, some meta-photos, too!



World's Largest Things, Minnesota Mini-Tour
World's Largest Adirondack Chair, St. Paul

World's Largest Snowman , North St. Paul

World's Largest Polar Bear , White Bear Lake

World's Largest Talking Paul Bunyan and Babe the Blue Ox , and Last Chance Visit to a closing Roadside Attraction, Paul Bunyan Amusement Center , Brainerd

World's Largest Art Tractor , New York Mills

World's Largest Otter , Fergus Falls

World's Largest Crow , Belgrade

World's Largest Pelican , Pelican Rapids

World's Largest Booming Prairie Chicken , Rothsay

World's Largest Ball of Twine , Darwin


Short trip, but packed with action and a lot of really great people. And, of course, souvenirs all along the way.

Tips? Photos? Please share:
World's Largest Things
PO Box 101
Lucas, KS 67648

info@WorldsLargestThings.com
| Home | | Store | | California Tour | | Oklahoma Tour | | Become a Member | | What's New | | About Us |
copyright and trademark ERNCO Value Added Products and World's Largest Things