World's Largest Crow
Belgrade, Minnesota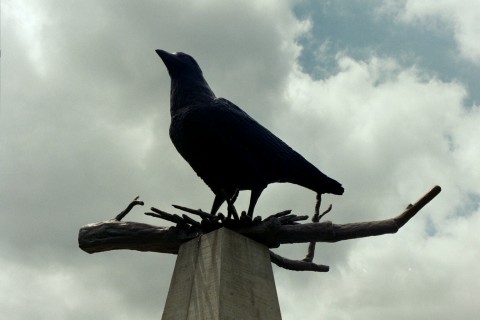 The World's Largest Crow is one of those rare, phenomenally realistic, well-done enlargements of everyday life. Located in the Crow Lake area, it was amazingly equipped with it's own Promotional Materials, as well as an Audio Message explaining the symbolism of everything.

While admiring the sculpture, a very nice (but all Minnesotans are very nice, aren't they?) little lady came up to talk to us, and let us know that she had a whole line of products available for tourists. She had seen the morning interview from the 4th of July Art Car Parade, and just knew the World's Largest Things museum would be stopping by, so she had been keeping watch for the assumed imminent arrival. Of course I had to pick up a souvenir ceramic tile and magnet…

---
World's Largest Crow Stats
18 feet high, the branch is 31 feet long.
Built with a metal skeleton, plastic form, fiberglass skin and automotive paint.
The entire structure from the bottom of the pedestal to the very top measures 43 feet
Built by a team of volunteers, but I don't know the designer of the crow itself, or exact build date, although the memorial is the 1988 Centennial Memorial.

Tips? Photos? Please share:
World's Largest Things
PO Box 101

info@WorldsLargestThings.com
| Home | | Store | | Minnesota Tour | | World's Largest List | | What's New |
copyright and trademark ERNCO Value Added Products and World's Largest Things