Paul Bunyan Amusement Center
Brainerd, Minnesota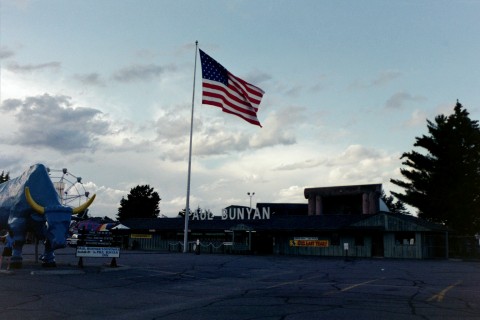 It was a blow to many Minnesotans when they read or heard the news: the amusement park is closing, and Paul and Babe were going to be sold to the highest bidder.

The Paul Bunyan Amusement Center is closing this season due to the amazing amount of money it takes to run a park like this one. Ma and Pa parks all over barely scrape by with high property taxes, but most of all the astronomical amount of insurance that has to be paid to open the doors every day. So, I had to go. Last chance. Some of the rides had already been sold, as well as some of the little side attractions and animated scenes about lumberjack life.

Extra added bonuses included: Educated Chickens, who play tic-tac-toe or basketball against you, or sell you a postcard (yes, live educated chickens); haunted house that moved pretty alarmingly when you have a 250 pound man running ahead of you; lotsa large Bunyan Accessories scattered around the park – harmonica, pants and shirt, fishing pole, ax, and more.

The state was in an uproar, especially when some of the bidders turned out to be from rival states like South Dakota and Wisconsin. The state governor even got involved, appearing at the amusement center to say goodbye, and see if there was any way to save the talking giant.

Luckily, the statues will end up staying in Brainerd – they're moving just a couple of miles to find a new home at a History Center. Although the last official thing I read had Babe moving to a bowling alley, rumor hasit that they will both go together to Paul's new home. There are lots and lots and lots of articles…


Paul Bunyan Amusement Center stats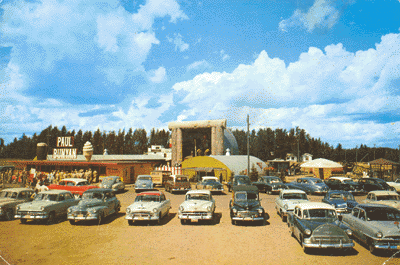 From the website www.PaulBunyanCenter.com:

Paul Bunyan Center - 1955
Paul Bunyan Center was founded in 1950 by Sherm Levis. The Center, at that time, was as a place to showcase the huge animated Paul Bunyan statue that Sherm Levis and Roy Kuemicheal purchased in 1949. In the present day, Paul Bunyan Center is a large tourist attraction, boasting over 40 rides and attractions owned and operated by the McFarland Family.

Tips? Photos? Please share:
World's Largest Things
PO Box 101
Lucas, KS 67648

info@WorldsLargestThings.com
| Home | | Store | | Back | | What's New |
copyright and trademark ERNCO Value Added Products and World's Largest Things