World's Largest Pelican
Pelican Rapids, Minnesota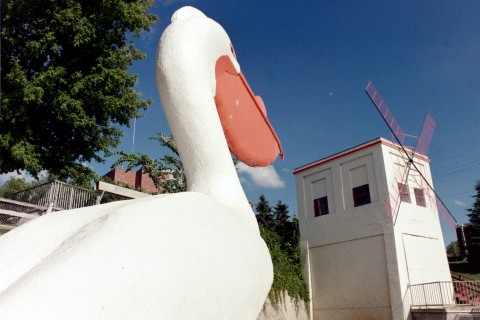 Sometimes, there's no need to explain why a certain monument is in a certain town – like, why did the people of Black Duck MN decide to build a World's Largest Black Duck?

The Pelican at Pelican Rapids is scenically placed next to a waterfall, in the city park just off the main street. Perfectly posed for postcard pictures, but no information available. The drugstore was just closing as we got there, but they seemed to be able to spot tourists on a quest for sufficient souvenirs, so let us in anyway for postcards and magnets. And, important to the traveler, pointed us down the street to a likely spot for T-Shirts and good coffee.

World's Largest Pelican Stats
World's Largest Pelican Stats

Like I said, no real information posted near the monument or in the travel guides for the area. Seemed to be the normal reinforced painted concrete manifestation, though, well-painted with some flaking near the ground, as the Pelican is right on a frothing creek bank.

Tips? Photos? Please share:
World's Largest Things
PO Box 101
Lucas, KS 67648

info@WorldsLargestThings.com
| Home | | Store | | Minnesota Tour | | World's Largest List | | What's New |
copyright and trademark ERNCO Value Added Products and World's Largest Things