Babe the Blue Ox
Brainerd, Minnesota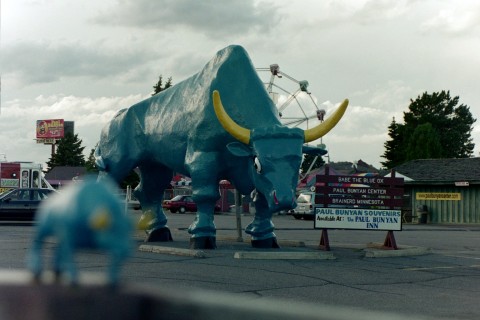 While not the largest Babe the Blue Ox, it certainly is the most dynamic. Located at the Paul Bunyan Amusement Park (soon to be closed, sadly – see related page), it stands guard in the parking lot to the World's Largest Animated Man! (That would be Paul Bunyan, of course…). The one in Bemidji is the largest, but my World's Smallest Version of the World's Largest Babe the Blue Ox fits this one better, so I had to take a few meta-photos. And, collect some Bitty Blue Brainerd Babe Bits (little chunks of concrete, asphalt, paint, whatever isn't firmly attached). Don't worry, there was no structural damage done to Babe in the acquisition of the Babe Bits – they were remnants from the last paint job, scattered about the ground – and, I had some help.
Babe the Blue Ox Stats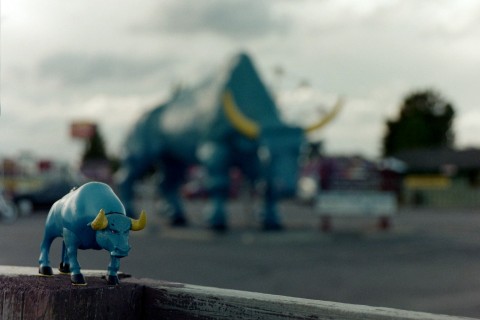 15 tons (according to the brochure), fiberglass and verrry shiny paint.

Inside the park was an article from The Brainerd Daily Dispatch, Tuesday,June 1, 1965:

Blue Ox Arrives – Babe the Blue Ox, the huge legendary companion of Paul Bunyan, arrived in Brainerd this (?text under another photo?) . The huge fiberglass statue dwarfs Bill (R?????), Chamber of Commerce manager, and the photo angle makes (?????) on par with the city landmark, the old water tower. Babe traveled all the way from Kansas City, MO, on a flatcar. (????) he will remain on the flatcar for a short time and then will be moved to the Paul Bunyan Center which will be the (????) new home.


Tips? Photos? Please share:
World's Largest Things
PO Box 101
Lucas, KS 67648

info@WorldsLargestThings.com
| Home | | Store | | Minnesota Tour | | World's Largest List | | What's New |
copyright and trademark ERNCO Value Added Products and World's Largest Things