August 18, 2003

Artistic nomad: Erika Nelson has interrupted her journey to work in Lucas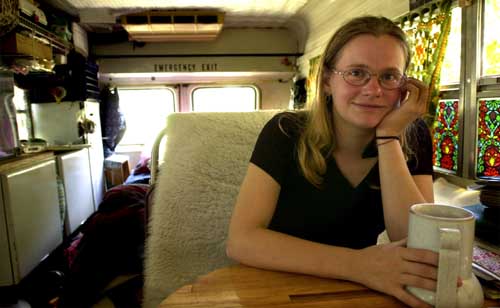 BRENDA AHEARN / The Salina Journal
Erika Nelson, 29, lives in a converted bus and travels the nation visiting objects declared to be the largest in the world. She creates miniature versions of those items and also does video installation work at regional art centers. She has been in Lucas this month working at the Grassroots Art Center.
by Gary Demuth, The Salina Journal
LUCAS -- Artist Erika Nelson gave up the academic life to take her art on the road.

Nelson, who has a master of fine arts degree from the University of Kansas, does textile art, sculpture, installation videos and performance art at galleries and juried art shows throughout the United States. A year ago, she decided to give up a teaching position at the university to become what she calls "a traveling artist." She bought a general transportation bus from a senior center in Garnett and refurbished it over six months, installing a bed, dining table, shelves and an old-fashioned pot belly stove.

She hit the highway in January, driving to an art show in Chicago. Since then, she has traveled to shows and galleries in Kentucky, Illinois, Wisconsin, Minnesota, Oklahoma, Arkansas and Kansas.

"I'm still involved with art as a career path, just not in an academic environment," said Nelson, 29, who was born in Texas and grew up in the Ozarks. "You could say I dropped out of consumer culture."

Nelson usually is on the road two to three months at a time.

"If I get burned out from traveling, there are places I know I can stay for a week or two to renew myself," she said. "I have a system of contacts in a lot of different states."

Back to the future in Lucas

Earlier this month, she stopped in Lucas to offer her services at the Grassroots Art Center, where a traveling Smithsonian Institute exhibit, "Yesterday's Tomorrows," was being installed. Nelson said she likes traveling to small communities and exploring what they have to offer.

"When I drive, I like to take all the back roads -- that's where the interesting things are," she said.

The back roads of America have been the setting for one of Nelson's ongoing projects, which she calls, "The World's Largest Collection of the World's Smallest Versions of the World's Largest Things." While on the road, Nelson stops at roadside attractions that display the "world's largest things." She takes numerous photos of the attraction and then meticulously makes tiny replicas of it, created from plastic, clay or pre-existing models that she alters. She then returns and photographs her small replicas next to the huge originals.

In Fergus Falls, Minn., she posed a tiny otter next to a statue of the world's largest otter. Also in Minnesota is a huge sculpture of Paul Bunyon and his blue ox, Babe, from which Nelson formed a tiny Bunyon and mini-blue Babe.

"I'm now working on a model of the deepest hand-dug well in Greensburg," she said. "You're able to go to the bottom of the well, and that's where I'll put it together with my tiny model. After that, I hope to go to Cawker City to see the world's largest ball of twine."

She's not a hippie

Nelson insists she is not a retro-hippie, although all the furniture and supplies in the bus were bought at thrift stores or taken from junkyards.

"As soon as you put afghans on your windows, it's too late -- people think you're a hippie," she said.

She has squeezed a queen-sized bed into the back of the bus and stores most of her supplies underneath or in the few small cabinets that line the bus's interior. All wardrobe items are tucked inside her pillowcases, "one for T-shirts, one for underwear, one for dress clothes -- they all have to be folded correctly to fit."

Nelson keeps all of her other worldly goods in a storage shed between Lawrence and Ottawa.

"It mostly contains my installation work or long-term possessions I don't need on a daily basis, stuff I can always go back and restock," she said.

The tiny wood-burning stove supplies heat so Nelson can function without electricity. In the summer, she tries to set up camp by lakes or rivers that have enough breeze to cool off the bus.

"It's hard to deal with the extreme heat of summer," she said. "I'd like to have my cat with me, but he doesn't take heat well and doesn't like to travel."

As a woman who travels alone, Nelson knows she has to be vigilant of her surroundings, but her experiences on the road generally have been positive.

"I like having visitors, although some people, when they see this is a bus, will walk right in if they see the door's open," she said. "One time I walked back in from a rest stop and there were three little kids playing inside. They said to me, 'You really live in here?' "

Mri Pilar, an artist friend who lives in Lucas, admires Nelson's decision to live a nomadic lifestyle, although it is something she would not choose to do.

"I wanted to root my life in one place," said Pilar, who lives at the historic Deeble House, where she makes artwork out of discarded materials. "For Erika, the bus is an extension of her art. It's a complete environment she's created on wheels, and wherever she goes, she's able to incorporate people into this environment in some way. She's become her own art installation."

Nelson likes her life on the road and said she lacks for nothing. As for the immediate future, she plans to stay in Lucas until the end of August and then move on, perhaps driving back to Minnesota, or if it starts getting colder, heading down South.

"There's not much that phases me," she said. "I don't have any problems because I don't see anything as a problem."

Worlds Largest Things
PO Box 101
Lucas Kansas 67648-0101
info@worldslargestthings.com
| Home | | Store | | Press | | About Us | | Whats New | | Become a Member | | Schedule a Visit |
copyright 2003 ERNCO Value Added Products and Worlds Largest Things