WLCo/WSVo/WLT
** 2007 HIGHLIGHTS **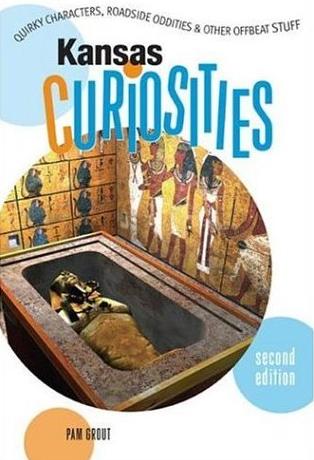 2007 - Year in Review
2007 has been a year of Regional Appearances, Inspirational World's Largest Things lectures, and Strategic Planning for the future of the Mobile Museum. Here's the poop so far:

January
* NEW Kansas Curiosities * featuring the WLCo/WSVo/WLT and a WHOLE LOTTA LUCAS.
Thanks for the great writeup, Pam Grout!!
February
Kansas Humanities Council adds World's Largest Things to their Speakers Bureau.
Check out their site for booking instructions to have Erika come and speak at your next function!

Kansas Explorers visit the World's Second Largest Hand Dug Well in Seneca Kansas
March
April
Mobile Museum featured in Topeka Capital-Journal April 22, 2007
May
May 3: Thursday Art Rush, 5 - 7 p.m., New Artist Exchange show opens at the Salina Art Center, featuring a look at the back-story of the development of the Mobile Museum, Salina Kansas

May 5: Mobile Museum appearance, 10 a.m. - 3 p.m., Broadway and 7th Street, Larned Kansas

May 24: Mobile Museum filmed for ArtLand: USA, Season Two, Episode 4, premeiring Thurs. October 25, 2007 on GalleryHD (Dish network). Filmed at the World's Largest Souvenir Travel Plate Lucas Kansas

May 31: Closing Reception, 5 - 7 p.m., Artist Exchange Exhibition, Salina Art Center, 242 S. Santa Fe, Salina Kansas

Recent Press: Artist Exchange piece featured in Lucas-Sylvan News May 3, 2007

Meanwhile, in Greensburg Kansas, a massive tornado wreaks havoc on an entire town. Help the World's Largest Hand-Dug Well recover!
June

June 3: Humanities Council World's Largest Things lecture, 2:00 PM, Rice County Farm Bureau, Lyons Kansas

July

July 2 - 28: Deconstructing the American Dream show, Graham Gallery, Hastings Nebraska

July 8: World's Largest Bottle of Catsup Summerfest, CANCELLED! Let's hope they celebrate next year... Collinsville Illinois

July 13: Deconstructing the American Dream reception, 7:00 - 9:00 p.m., Graham Gallery, Hastings Nebraska

July 18: Humanities Council World's Largest Things lecture, 12:15 PM, Noon Cooler at the Smoky Hills Museum, Salina Kansas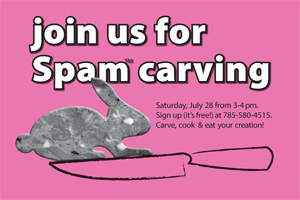 July 28 - 29: Sabatini Gallery, Mobile Museum appearance, Topeka and Shawnee County Public Library, Topeka Kansas


August

New newsletter hits mailboxes - Big Idea replaces the old 'Next Exit'.

September, October, November

Friday October 12th: 100th Anniversary of the Garden of Eden - Meet S.P. Dinsmoor! Food, festivities, and evening tours, starting 7 p.m., Lucas

October 21st:, 2007 Methodist Mens' (and Womens'!) Fish Fry
Glen Elder Kansas. Slide Show Extravaganza!


October 25th: ArtLand USA, Season Two Episode Four airs, featuring the Garden of Eden and World's Largest Things!
Available on the Gallery HD Channel on Dish network, 8 p.m. EST., but check your local listings for confirmation...

October 27th: Scout and Erika will be at the Dolphin Gallery in Kansas City, partaking in a Kansas City BBQ and Art tradition...

October 29th: Erika talks about Public Art, World's Largest Things, and Outsider Art Environments to University of Kansas students.
Look for Scout in Lawrence afterwards!

October 30th: Life Enrichment Program
Kansas Humanities Council W.L.Things lecture
10:45 a.m., Kansas Room, Butler Community College, El Dorado Kansas

December


Check out what happened in 2006 on the 2006 Year in Review page, or go on back to 2005 or WAY BACK to 2004 !


Want to book a stop for 2007?
World's Largest Things
PO Box 101
Lucas, KS 67648

info@worldslargestthings.com

| Home | | Souvenir Stand | | Become a Member | | About Us | | Press | | What's Large Where | | What's New |

copyright and trademark ERNCO Value Added Products and World's Largest Things