New Work focuses on Story Behind the WLC0/WSVo/WLT Traveling Roadside Attraction and Museum
On display May 3 - June 3, 2007, at the Salina Art Center, Salina Kansas
Closing reception May 31st, 5:00 - 7:00 p.m.
Interested in some of the background stories to the development of the World's Largest Collection of the World's Smallest Versions of the World's Largest Things? Well, some of them are illustrated in a new four-panel painting series currently on exhibit in Salina. Read the full news article from the Lucas-Sylvan News, and stop by and see the show when you're in Central Kansas.

The project was developed as a part of the Art Center's "Artist Exchange" program, which paired regional artists together to promote innovative new work. Since November, one of the rooms at the World's Largest Things headquarters has been converted into a temporary painting studio to produce the four large, double-sided panels. The outside surfaces are stained wood designs depicting the exterior of the bus as it evolved into a Mobile Museum, while the interior surfaces are brightly painted images, illustrating stories from the road.
From Carhenge in Nebraska to the Catoosa Whale in Oklahoma, Dinosaurs and Boxes of Raisins in California to the Jolly Green Giant in Minnesota, the paintings give glimpses into what was going on behind the scenes during my roadside wanderings.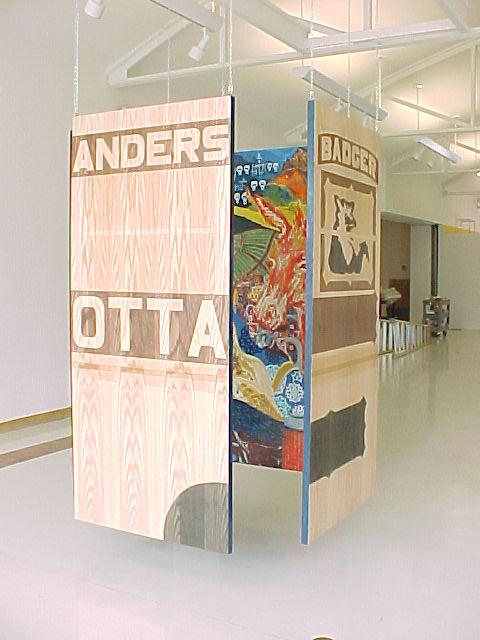 The Artist Exchange program was a great help in producing this piece. The Artist's Statement gives a description of intention and results of the Artist Exchange process, and all the participants will gather for a discussion and closing reception May 31st from 5:00 - 7:00 p.m. at the Salina Art Center.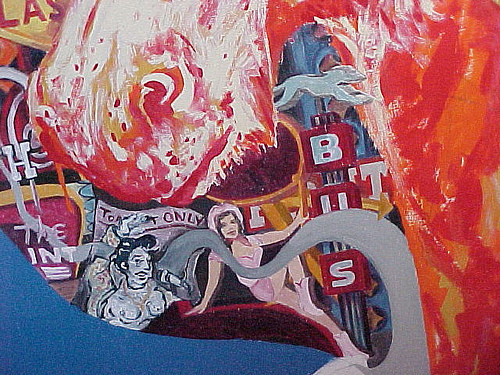 Show Dates - May 3 - June 3, at the Salina Art Center, 242 S. Santa Fe.
Closing Reception May 31, 5-7 p.m., remarks at 5:30 - meet all the Artist Exchange participants!
| Home | | What's New | | What's Large Where | | Become a Member |