WLCo/WSVo/WLT
** 2006 HIGHLIGHTS **
2006 - Year in Review
2006 brought the WLCo/WSVo/WLT back to the East Coast, back to Houston, back to the Catsup, and may just bring your favorite Mobile Museum back to the Boots! Here's what's happened when so far in the Year of the xx:

January
KFRM interview on Rural Route, 1/2 hour program connecting the dots between Rural and Urban.
Interview aired January 16th.

And, in independent art venues all over New York City, keep an eye out for the new issue of 3rd Floor Art Magazine with a two page spread featuring my own quest to Combat Genericana... Or, order one online through their website.

February
NCOR hosts the Scout vehicle at it's Feb 3-5 conference!!
Discussing the topic Combating Genericana: a Perspective from the Midwest. at the DC conference.


True to the mission of Scout, a mini Kentucky Trip seeking uncommon things along the way 'tween DC and Kansas...


Hays Daily News,February 5th 2006
featured World's Largest Things in a full page article.

March

Kansas Arts Commission Fellowship awards Erika a Fellowship for 3D Visual Art!
Check out the press release above, or the PDF Version - Images from the award reception March 8th, 2006.


Follow-up interview on Rural Route, 1/2 hour program connecting the dots between Rural and Urban.
Interview aired March 14th, talking about the recent Washington DC trip... And, started a Yahoo group "ruralroute@yahoogroups.com" - Join us for rural stories, inspiration, and an online support system of interested folks!

Museum Outreach, an online collection of mobile museums and outreach programs takes a look at the
World's Largest Collection of the World's Smallest Versions of the World's Largest Things

April
From Arkansas NPR, KUAR's locally produced "Yesterday, Today, and Tomorrow" explores Outsider Art.
Inviting people from three generations to discuss the topic of the week, Erika represented the 'younger' generation in this fun conversation looking at art outside the norm. Aired Tuesday April 25...

NEW Lesson Plans and Educational Resources developed as support material for an April 13th appearance at the Kansas State Historical Society for their Environmental Fair.
Art Cars, Folk Art, and Recycled Art links and lessons plans for educators... Feel free to use ideas presented, and send in photos of your students' work!

May
Annual Art Car Weekend in Houston Texas, Over 250 Cars at this year's event...
Hosted once again by the Orange Show Center for Visionary Art, caretakers of Jeff McKissack's Outsider Art environment Orange Show

June
Smoky Hill River Festival brought Art Cars to Salina!
Approximately 30 Art Cars invaded Salina June 8,9, and 10 to help the River Festival make its 30th Year something special... .

June's issue of Budget Travel features Erika as the poster girl for Quirky Kansas...

And, the June-July issue of Postcard Collector includes the WLCo/WSVo/WLT in their "What's in the Mail" section...

July
The WLCo/WSVo/WLT once again visited Collinsville's annual Summerfest July 9th, 2006!
Exploring and celebrating another Small Town that Thinks Big! Also appearing was the ever-popular and photogenic Weinermobile.


The Ditty Bops stopped in Lucas to visit the WLCo/WSVo/WLT museum, and play a show at the Garden of Eden during their bicycle tour of the US, from LA to New York.

That's right, BICYCLE TOUR. In JULY. Don't believe me? Read it on the Blog of their Trip. Photos, dietary record, plus much more from two crazy amazing women...

Then, it was a return trip to Minnesota's Art Car Parade, July 22nd.
Always a fun way to explore the State with the Largest Number of World's Largest Things!

August
August was the time for World's Largest Things Inc. to do some housekeeping and much-needed maintenance to keep things running smoothly - both in the Museum and in the virtual world of www.WorldsLargestThings.com.
Also, development of two more pages in other pupular spots - You can visit Worlds Largest Things at
MySpace! or at my Lomo Home!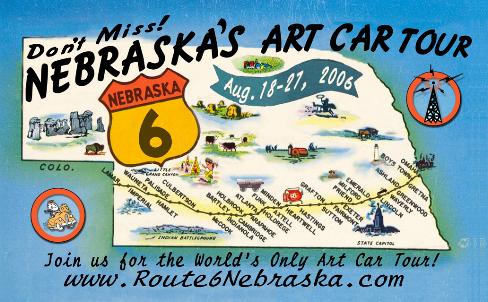 Route 6 Nebraska Art Car Tour, August 19 - 27
The Second and a Half Annual Route 6 Nebraska Art Cars was a great success - stopping in small communities along the way.
Take a look at the week of fun we had across the State of Nebraska along Historic Route 6!

Photo Blog, with close to 300 images, at the Route 6 Nebraska Art Car Tour Flickr page
Daily Journal of the trip at Route 6 Nebraska Art Car Tour Blogspot
Details available online at the Route 6 Nebraska website

September, October, November

National Endowment for the Arts Annual Report highlights W.L. Souvenir Travel Plate! What an honor.

* World's Largest Souvenir Travel Plate *
photo blog of the NEWEST World's Largest Thing project! Updated daily while painting, September 4th through November 14th. And, first press release announcing the project.

NEW World's Largest Chess Set in California

NEW World's Largest Rubber Band Ball in Chicago

December

* World's Largest Ball of Twine opens internet Gift Shop!! *
New online giftshop for the Ball of Twine! Tee shirts, mugs, hand-made Salt and Pepper Shakers, even Twine Ball Ornaments!!! Gotta love World's Largest Things, and the people who promote them...

AND, a whole compillation of quirky gift-giving opportunities featured on a new Roadside Attraction Gift Shop link page


Check out what happened in 2005 on the 2005 Year in Review page, or go on back to 2004!


Want to book a stop for 2007?
World's Largest Things
PO Box 101
Lucas, KS 67648

info@worldslargestthings.com

| Home | | Souvenir Stand | | Become a Member | | About Us | | Press | | What's Large Where | | What's New |

copyright and trademark ERNCO Value Added Products and World's Largest Things