World's Largest Things with Gift Shops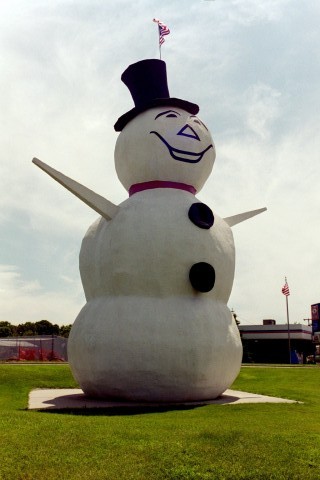 Support Roadside Attractions - Shop Online
It's a great way to help preserve some of the icons of the American Road, and give unique, one-of-a-kind gifts to boot! These links support individual roadside attractions through their gift shops. Know of some more that need to be on the list? PLEASE, let me know! And, forward this to your gift-giving friends, as a little 'hint' for stocking stuffers of the World's Largest Kind!

Ball of Twine, Cawker City Kansas
The King of Kitsch, The Big Ball of Twine - featuring handmade porcelain products, from Twine Picture Frames to Salt and Pepper Shakers. Great gifts to amuse and amaze. I highly recommend the S&P set...

Lucy the Margate Elephant, Margate City New Jersey
Through the years, Lucy has had loads of products associated with her: from commemorative coins to plates to cigars. You'll never know what you'll find in their shopping mall!

World's Largest Catsup Bottle, Collinsville Illinois
Pins, ornaments, and some great design work on an array of merchandise from America's Favorite Condiment! Let everyone know that size really does matter in Collinsville...
Jackalope Store, Jackson Wyoming
Who DOESN'T need a Jackalope!!! From the Jackson Chamber of Commerce, a great gob of gewgaws featuring this mythical creature. Phone orders only, but browse online!

Wigwam Village No. 2, Cave City Kentucky
They're going through Cafepress, which I'm not a great fan of (I like screenprinted tees, as opposed to photo-transfer) but the mugs are nice and they support one of the last Wigwam Villages.

World's Largest Collection of the World's Smallest Versions of the World's Largest Things, Lucas Kansas
That's right, the Mobile Museum has souvenirs, too, and depends on Member Support to keep its wheels rolling!

S.P. Dinsmoor's Garden of Eden, Lucas Kansas
Also a phone-it-in type of gift shop, supporting one of the oldest US Outsider Environments.

Coral Castle, Homestead Florida
Another amazing Outsider Art environment! Their shop features a wide array of items, some with pictures, some not - but hey! Think of it as a suprise package from Ed Leedskalnin!

More gift ideas available through the Souvenir Stand!
Featuring *NEW* tee color, one-of-a-kind items, and some special bonus premiums when you become a member.

And, Memberships make great gifts, too!!! Fun suprise package for that certain special someone.
info@worldslargestthings.com
| Home | | Souvenir Stand | | Become a Member | | What's New |
Copyright and Trademark World's Largest Things, Inc.