World's Largest Things, Incorporated
is a federally recognized 501(c)3 non-profit corporation,
established to research, collect, and disseminate information relating to
the history, preservation, production, and promotion of
Roadside Vernacular Architecture known as World's Largest Things.

Incorporated in the State of Kansas, all records are available
for inspection at World's Largest Things Headquarters, Lucas Kansas.


Become a Member,
or give a TAX DEDUCTABLE donation
to further the outreach components
of the Traveling Roadside Attraction and Museum!
We will provide you with the appropriate IRS form
for documentation of donations over $250,
or upon request for lesser amounts and in-kind donations.
Current Project: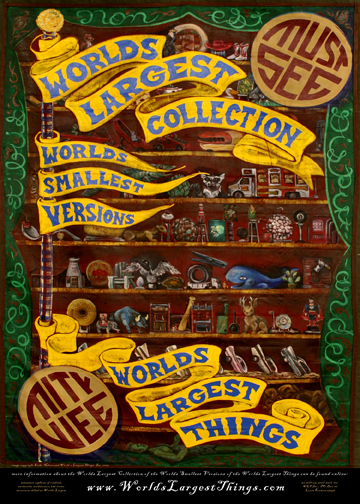 Current Project: Sideshow Extravaganza!
for the new portable WLCoWSVoWLT
Half of all new memberships and all of your PayPal donations
go directly into the Mobile Museum devlopment fund.
Premeired at MountainFilm in Telluride, 2010,
it's a traditional Sideshow experience with canvas fronts
and a Rotate-O-Matic Whirlwind Wonderhouse of World's Largest Things!
Watch out for the Food Freak Show,
and be minutely amazed at the Mini-Vidie Micro-Cinie.
World's Largest Things
PO Box 101
Lucas, KS 67648-0101
785-760-0826

info@WorldsLargestThings.com
| Home || What's New | | Store | | What's Large Where | | Become a Member | | Press | | About Us |
copyright and trademark 2007 Worlds Largest Things, Incorporated