World's Largest King Kong
Beaver Arkansas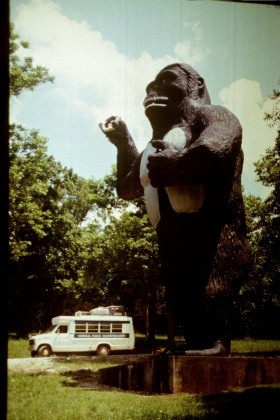 Located in the entrance circle to an amazing individual's view of prehistory you'll find the World's Largest King Kong. While Dinosaur World was impressive ("World's Largest"), too, the Four Story King Kong was what I was there to see...

Not far from Eureka Springs, the World's Largest King Kong holds a screaming kicking woman - some unfortunate tourist that did not follow the park rules? According to the brochure, he's four stories tall, but not mentionedagain. The structures in the park are all concrete and fiberglass, in varying states of decomposition. Kong is holding up well, though, and I got an extra-added bonus of picking up the raw materials for the World's Smallest Version right there at the gift shop.

Unfortunately, the Dinosaur World Cafe no longer serves food, extra-disappointing in that their menu included a World's Largest of it's own - the Kong Burger. Once you enter the park, you have over 2 miles of road to meander along, with over 100 "lifesize prehistoric replicas". You get a map that explains the whole park, with informative markings for "Prehistoric Men", "Picnic Area", and "Additional Replicas"

World's Largest King Kong Stats
Literature only mentions that he's four stories tall.
Note the decidedly boring, non-painted, pre-Traveling Roadside Attraction bus in the background...

Tips? Photos? Please share:
World's Largest Things
PO Box 101
Lucas, KS 67648

info@worldslargestthings.com
| Home | | Store | | What's New | | What's Large Where | | Become a Member |
copyright and trademark ERNCO Value Added Products and World's Largest Things