World's Largest Binoculars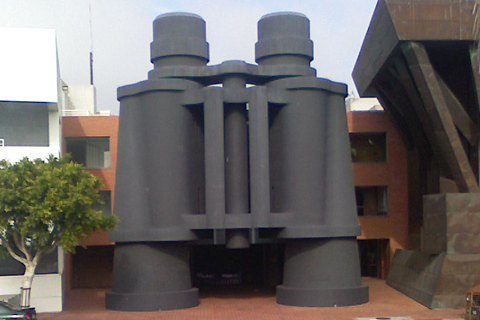 Venice,California


What do you do when you're designing a building, and there's something, well, just not 'enough'. You can almost put your finger on the perfect 'thing' for your architectural masterpiece, but what, exactly, is 'it'?

Architect Frank Ghery had just this dilemma when designing the Chiat-Day Building. There was a gap, between parts, that cried out for 'something'. Someone in the office grabbed a sculpture proposal that hadn't been realized in a previous project, and set them in place. Claus Oldenberg and Coosje vanBruggen finally had a home for their oversized pair of binoculars, which became a part of the scheme.

They're not entirely decorative - part of the body is accessible from the inside, and you drive through the space between the lenses to access the parking garage.
---
World's Largest Binoculars
Installed 1989 - 1991
Steel frame
Exterior: concrete and cement plaster painted with elastomeric paint
Interior: gypsum plaster
45' x 44' x 18'

340 Main Street, Venice, California

You can find out more on Oldenberg/vanBruggen project pages
Tips? Photos? Please share:
World's Largest Things
PO Box 101
Lucas, KS 67648

info@WorldsLargestThings.com
| Home | | Store | | California Tour | | World's Largest List | | What's New |
copyright and trademark ERNCO Value Added Products and World's Largest Things