World's Largest Box of Raisins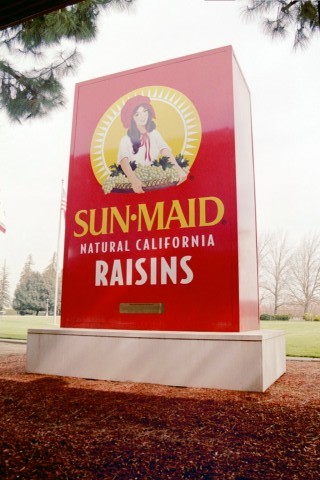 Kingsburg, California
The World's Largest Box of Raisins sits at the office entrance to Sun-Maid raisins, a little plant that's been in its original location since it's inception. At one time, it did actually hold raisins, but the box is now empty for obvious reasons.

The creation of the box was a part of Dr. William E. Rice's Marketing Block class at California State University – Fresno. In an interview with him, he told of the 1992 record, officially recognized in the Guinness Book of World Records. The Marketing Block class broke a total of 5 World Records, but stopped attempting records after the failure of the Worlds Largest Fruit Cocktail.

After the creation of the World's Largest Box of Raisins, the marketing class donated it to the Sun-Maid plant, with a dedication by Gayle Wilson, wife of California Gov. Pete Wilson in celebration of Sun-Maid's 80th anniversary.

In addition to housing the World's Largest Box of Raisins, Sun-Maid is the World's Favorite Raisin, with the World's Most Recognized Food Icon.


---
World's Largest Box of Raisins Stats
12 feet high, 8 feet wide, 4 feet deep
holds about 16,500 pounds of raisins
filled on May 9, 1992
took 300 to 400 hours of prep time, with 60 hours going to box construction
day's worth of loading via bucket brigade

From an alert web surfer:
The address of the Sun-maid Plant, Office and Growers Store is:
Sun-Maid Growers of California
13525 S. Bethel Avenue
Kingsburg, California 93631

Tips? Photos? Please share:
World's Largest Things
PO Box 101
Lucas, KS 67648

info@WorldsLargestThings.com
| Home | | Store | | California Tour | | World's Largest List | | What's New |
copyright and trademark ERNCO Value Added Products and World's Largest Things