World's Largest Chess Set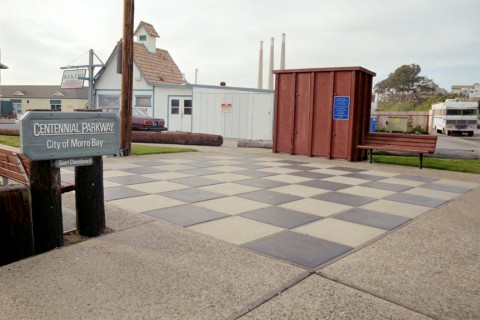 NEW Record set - see related article: NEW Big Chess Set
Morro Bay, California
The World's Largest Chess set is an interactive chess set on the california coast. Conceived in 1970-71 to commemorate the centennial celebration, t was dedicated on December 6, 1975. Acting Mayor Dale Mitchell oficially opened the project, and the first game of chess was under way in an hour between two of the chessboard's main creators, Wachtang 'Botso' Korisheli and Wayne Bickford.

The committee in charge of the Centennial Stairway project (and giant chess set) raised over $15,000 in citizen contributions, with the city adding $18,154 from public funds to solve drainage problems and $29,656 for construction.


---
World's Largest Chess Set Stats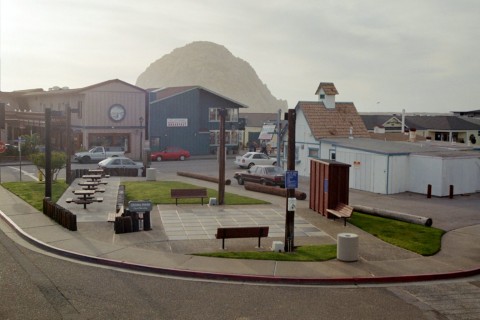 The chess pieces were designed by Korisheli based on the Staunton pattern universally used by chess players in tournament competition. The wood for the pieces came from two redwood water tanks which had served the city for 50 years atop Morro Bay Boulevard. Two 6' x 12' timbers were glued together and then cut and lathed into 22 inch pawns, 33 inch kings and 31 inch queens. The lathe was especially rigged for this job by Wayne Bickford.

The concrete chessboard is made up of alternate black and white 2 foot squares giving an overall dimenstion of 16 feet by 16 feet.

the chess pieces wiegh from 18 to 30 pounds each and it has been calculated that in an average game a player will iftmore than 1,000 pounds.

The Chessboard is public property abvailable for use with a nominal fee. The Morro Bay Recreation Department administers the use of the chessboard. At the present time, use is limited from 8 am to 5 pm and reservations must be made before noon at least one day in advance. Weekend reservations must be made by noon Friday. Telephone 772-1214 or visit the Recreation Department office at 535 Harbor Street.


Tips? Photos? Please share:
World's Largest Things
PO Box 101
Lucas, KS 67648

info@WorldsLargestThings.com
| Home | | Store | | California Tour | | World's Largest List | | What's New |
copyright and trademark ERNCO Value Added Products and World's Largest Things