The Donut Hole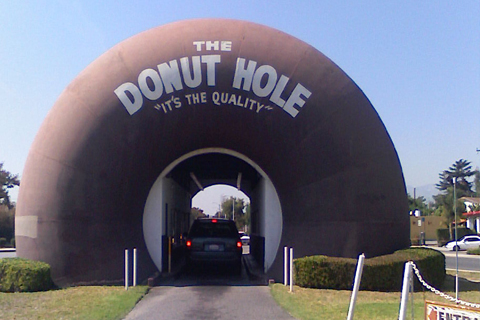 La Puente,California


There were once five Donut Hole locations, with the last surviving example still serving up donuts to drivers entering the 'hole', or visitors coming up to the window on foot. Built in 1968, it has been in service to hungry donut eaters since it opened with very few lapses.

As the donut states: "It's The Quality"
---
Donut Hole Stats
US Patent Number D215,540
Stucco-covered wood building, with fiberglass donuts on each end.
Donut - 26' diameter
Building - 46' long

15300 E. Amar Road

Tips? Photos? Please share:
World's Largest Things
PO Box 101
Lucas, KS 67648

info@WorldsLargestThings.com
| Home | | Store | | California Tour | | World's Largest List | | What's New |
copyright and trademark ERNCO Value Added Products and World's Largest Things