World's Largest Can of Fruit Cocktail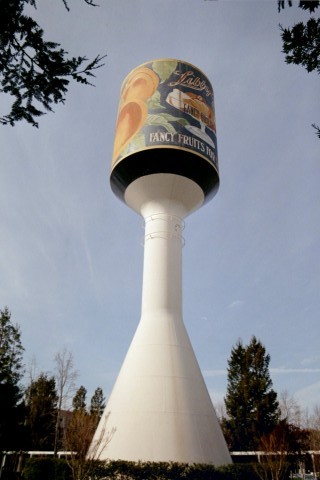 Sunnyvale, California
The World's Largest Can of Fruit Cocktail is another Watertower Wonder, painted in a retro label to commemorate an industry of the area.

It used to tower over the Libby, McNeil and Liggy cannery, but is now the only remnant of the 1906 establishment. In 1982, Lincoln Property Company bought the former Libby, McNeil, and Libby cannery site and by 1985 had turned it into the Sunnyvale Industial Park. The developers were required to save the towering fruit cocktail can.

Artist Anita Kaplan was commissioned to restore the can to its 1935 fruit cocktail label.

So, it sits overlooking the new industry Ė it seemed like every other office/industrial park Iíve ever been to, but the can is beautiful, and overlooks a well-kept active downtown district, just across the bridge.


---
World's Largest Can of Fruit Cocktail Stats
444 California Street
restored in 1985
(thatís all I got)


Tips? Photos? Please share:
World's Largest Things
PO Box 101
Lucas, KS 67648

info@WorldsLargestThings.com
| Home | | Store | | California Tour | | World's Largest List | | What's New |
copyright and trademark ERNCO Value Added Products and World's Largest Things