World's Largest Olive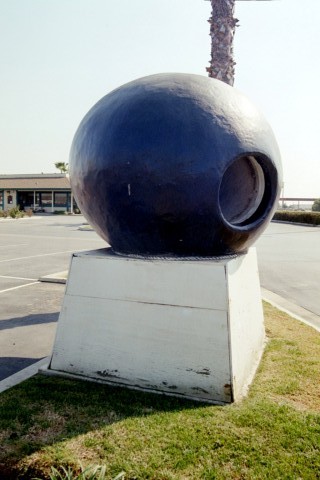 Lindsay, California
The World's Largest Olive sits in a resteraunt parking lot in Lindsay, California. It was originally produced for the local Olive Growers CoOp, and sat at their entranceway. Unfortunately, the CoOp closed as the olive industry left the area in the late 80s. Now, there are few olive fields, but the man next to me at the diner gave a great description of how olive oil is made. I didn't get specific information, as the library was closed when I visited, but go to the resteraunt for pie when you visit the World's Largest Olive.
---
World's Largest Olive Stats
Well, like I said, I didn't get anyting specific, but to give you an idea of scale, if you have to special-order cowboy hats, you'd still have a hard time getting your noggin stuck in the pit hole.

Looked like concrete construction, with a wooden base.

I'll post more as I get information.
Tips? Photos? Please share:
World's Largest Things
PO Box 101
Lucas, KS 67648
info@WorldsLargestThings.com
| Home | | California Tour | | World's Largest List | | What's New |
copyright and trademark ERNCO Value Added Products and World's Largest Things