World's Largest Shoe
Bakersfield, California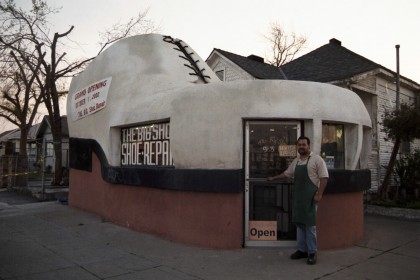 The World's Largest Shoe was build by a shoe repair man, who lived in the house just behind the shoe. There were a few falling apart articles about the owner and the building, but I couldn't convince the shop proprietor to let me photocopy them - I have the publication information, so I'll post more info if I get my hands on the archives of the newspaper. Anyhoo, the original man had died, leaving the property to the wife. In the will there was a stipulation that the shoe building be used for it's intended purpose - a shoe-related business had to go in if the property was sold.

The current owner, Salomon Olvera, bought the property agreeing to the stipulation. In talking with the property owner, he said there was a flood of interest from a variety of businesses who wanted to occupy his new shoe, but the man in the photo won out. Felipe Torres had a shop in a strip mall, and wasn't concerned at all about losing customers - for a good shoe repairman, he said, people will drive. And, for a good shoe repairman who works in a World's Largest Shoe, they'll bring their friends.

The owner of the property sells high end cookware in a shop down the street - his vision is to build a World's Largest Cooking Pot building, in Mexico where the headquarters of the cookware is. Then, he'd like to build another in the states once the Mexico one works. He's got the architectural plans all ready to go, too…

The shoe repair proprietor had an additional World's Largest Thing vision, too - since the existing one is a left shoe, he envisions a franchise opportunity, starting off with the matching right shoe. From there, you can diversify into a myriad of styles and colors, across the nation. You go, boys.

World's Largest Shoe Stats
Built 1947, 380-square-foot,built by Chester Deschwanden. Worked for 3 yearson the structure, then died. 25 feet tall at peak, 32 feet long, roughly a size 678. Shoelaces are three-inch-thick oil-field ropes.

Concrete building, and the interior is formed just like the exterior - in other words, sloping, curved walls like you're in a shoe, and a little hump in the floor like the arch leading to the heel.

Oh, by the way, the first night the proprietor and his wife were setting up shop, it was getting late but they still had some work to do cleaning up. The TV goes off, each person thinks the other one did it, until they both realize they were working side by side. The wife looks up and suggests that they call it a night. They've not had any problems with the ghost living there, but they don't work into the night, either.


Tips? Photos? Please share:
World's Largest Things
PO Box 101
Lucas, KS 67648

info@worldslargestthings.com
| Home | | Store | | California Tour | | What's Large Where | | What's New |
copyright and trademark ERNCO Value Added Products and World's Largest Things