World's Largest Desert Tortoise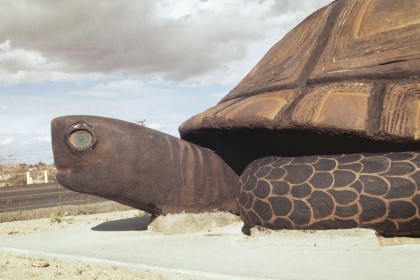 Joshua Tree, California
The World's Largest Desert Tortoise is on the main drag of Joshua Tree California. When originally contacting the Chamber of Commerce there, they were amazed to find out they had a World's Largest. The lady at the chamber started doing some checking, and found out how hard it is to find out who what when where for things. She didn't kinow the original maker, but the plaque on the bottom was from the person who restored it and eventuallly donated it to the city in 1998.

It had originally been used in parades, hauled on a flatbed trailer, and at one time was painted red.


---
World's Largest Desert Tortoise Stats
World's Largest Desert tortoise Stats
Mixed material makeup, looked like a wood and wire fromework with cement and plaster, and a thick enamel-type paint skin.


Tips? Photos? Please share:
World's Largest Things
PO Box 101
Lucas, KS 67648

info@WorldsLargestThings.com
| Home | | Store | | California Tour | | World's Largest List | | What's New |
copyright and trademark ERNCO Value Added Products and World's Largest Things