World's Largest Coffeepot
Bedford, Pennsylvania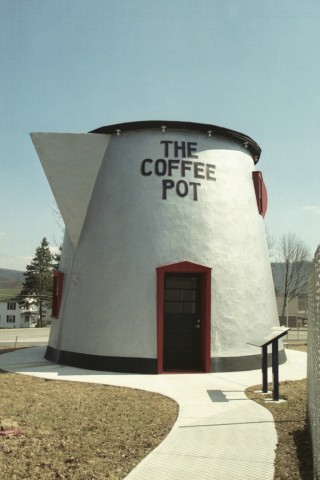 Along the Lincoln Highway, amid curvie roads and Brake Test vehicles that traverse the hills at 30 mph braking frequently, you'll find another classic Duck - the Bedford Coffeepot. Newly restored, this is another example of the local Travel and Tourism group missing the boat - I saw the pot, went downtown for more info, got confused looks from two of the workers when they realized I wasn't looking for covered bridges. "Well, that's what we're known for, and that's what we promote." "Can you tell me who to talk to instead? Or, who restored the structure? Or, who built it in the first place?" "No, we really are more interested in promoting the covered bridges - that's what people like..."

So, after purchasing the horrible postcard that they found at the back of the rack (of the pot in its pre-restored state...) I found other resources. Outside of the carefully redone structure is an information plaque, explaining mimetic architecture and a brief history of roadside architecture as it relates to one of America's favorite pasttimes - touring around the country. Luckily, the Lincoln Highway people are up on these sorts of things, providing the much appreciated information lacking at the Bedford County Travel and Tourism Office.

World's Largest Coffeepot Stats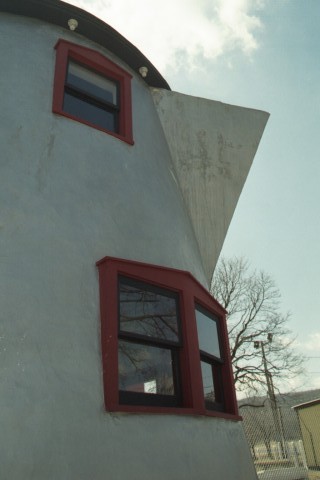 Built originally in 1927, two-story wood and stucco structure. David B. Koontz built is as a roadside lunch stand on US 30, the only paved road running coast-to-coast. 24 feet in diameter, covered originally with sheet metal. Two stories, operated as lunch stand, then a bar until its decline.

Originally one of almost 20, there are now only 5 in the area.

Saved in 2003 by the Lincoln Highway Heritage Corridor, who hired architect Mike Eversmeyer to oversee the move across the street to the Bedford County Fairgrounds, the new owners.

Tips? Photos? Please share:
World's Largest Things
PO Box 101
Lucas, KS 67648

info@WorldsLargestThings.com
| Home | | Store | | Become a Member | | What's New | | What's Large Where |
copyright and trademark ERNCO Value Added Products and World's Largest Things