World's Largest Rubber Stamp
Cleveland Ohio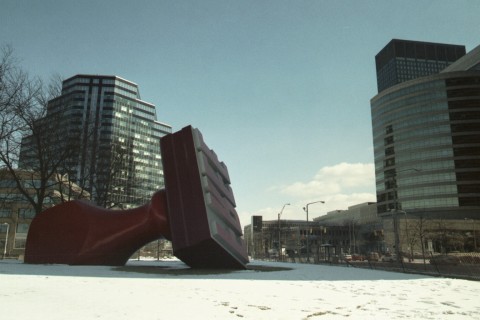 Continuing the Claus Oldenburg, Coosje van Bruggen theme of the Eastern Tour of 2005, we find ourselves in Cleveland Ohio. Sitting in the middle of a public park, we locate the World's Largest Stamp.

The Free Stamp has a dramatic history, which makes it even more impressive that it made it to where it is today. Originally commissioned for an oil company, mid-way through the process they decided they didn't want it. the story is best told through the city's website: City of Cleveland.

I don't know what is is about controversy and Oldenberg's projects - it seems as if the Art World gets uncomfortable with things that normal people will relate to, and normal people hesitate to call things they relate to "Art". They are definately bridges between to two worlds, if viewed in that light, but more often than not are perceived as either barriers or 'proof' of the others' viewpoints as frivolous and silly. We're all so afraid of being taken for a sucker that we've forgotten how to just enjoy, and not care that we're laughing.

Free Stamp Stats: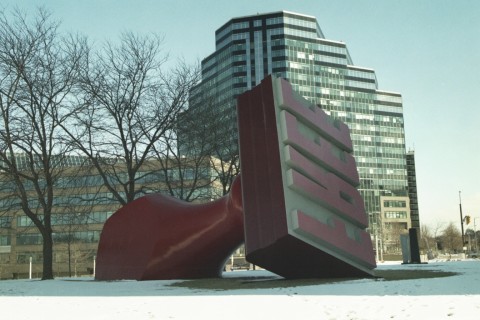 From the plaque:

FREE STAMP
Claes Oldenburrg
Coosje Van Bruggen
Painted Steel and Aluminum, 1991
Gift of BP America
to the City of Cleveland
Michael R. White, Mayor
Jay Westbrook, City Council President
I'll post more as I get information.
Tips? Photos? Please share:
World's Largest Things
PO Box 101
Lucas, KS 67648

info@worldslargestthings.com
| Home | | Souvenirs | | What's Large Where | | What's New | | Become a Member |
Copyright and Trademark 2005 Worlds Largest Things