Mr. Ed's Elephant Museum
Orrtanna Pennsylvania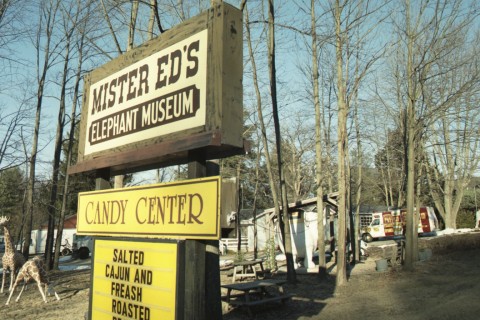 Following the Lincoln Highway through Pennsylvania, between the World's Largest Coffeepot and the World's Largest Shoe, travelers are entices by signs along the was promising the largest selection of candy in the area. And if that isn't enough, there's an Elephant Museum, to boot! So, if one doesn't getcha, the other one will. Because, as the sign says, You'll Never Forget... Mister Ed's Elephant Museum.

Luckily, Mr. Ed was in that day, talking tourism with another Route 30 attraction manager. He said this year was his 30th year on Highway 30, and felt that it was going to be big. People are seeking nostalgia, coming back to places they remember visiting as a child, or the 'Offbeat' attractions that promise something different.

And that's exactly what Mr. Ed is all about. His roadside attraction, along with all your favorite Necco candies like Squirrel Nut Zippers and Mary Janes, consists of his personal collection of over 6,000 elephants ranging from small to as large as a real elephant. Outside, you'll find a couple of pachyderms seemingly ready to spout, and one that talks!

So, zipping along those blue highways, be sure to stop and support the Ma and Pa shops along the way... and get some Wax Bottles from Mr. Ed!

Mr. Ed's Elephant Museum Stats: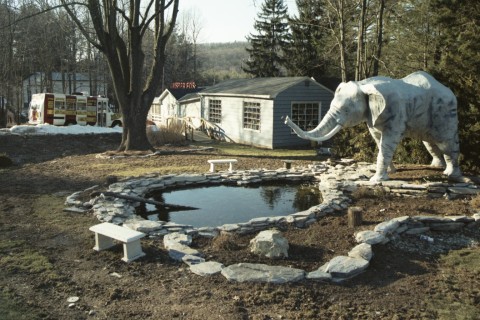 30 Years on 30
6,000 Elephants

From the postcard: The world's most unique elephant museum and gift shop. Featuring "Miss Ellie" the talking elephant and our famous fresh-roasted "Jumbo" peanuts.

I'll post more as I get information.
Tips? Photos? Please share:
World's Largest Things
PO Box 101
Lucas, KS 67648

info@worldslargestthings.com
| Home | | Souvenirs | | What's Large Where | | What's New | | Become a Member |
Copyright and Trademark 2005 Worlds Largest Things