Albert, the World's Largest Bull
Audubon Iowa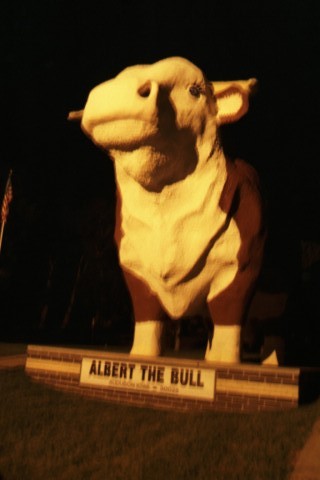 Albert the Bull is a periodic favorite of the World's Largest Collection of the World's Smallest Versions of the World's Largest Things Traveling Roadside Attraction and Museum... The unfortunate thing is I never seem to make it there when the Chamber of Commerce offices are open to get an Albert Tee or postcard.

The bull itself is anatomically correct, stucco over metal frame, overlooking the highway that passes through Audubon. Recent additions to Albert the Bull park include a narrative history of the bull, including the who what when where whys of it all.

I've posted the info from the Chamber of Commerce sheet here...

Albert the World's Largest Bull Stats:
World's Largest Bull Stats

Once again, check the fact sheet for full details, but in general:
Concrete over steel, 1963, 45 tons, 65 gallons of paint, constructed by the Audubon Jaycees.

I'll post more as I get information.
Tips? Photos? Please share:
World's Largest Things
PO Box 101
Lucas, KS 67648

info@worldslargestthings.com
| Home | | Store | | What's New | | What's Large Where | | Become a Member |
copyright and trademark ERNCO Value Added Products and World's Largest Things