World's Largest Meat Cleaver
Topeka Kansas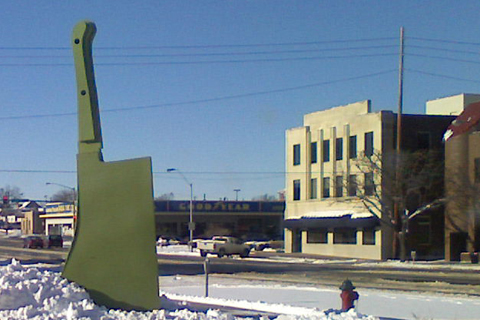 This was one of the mounuments shrouded in mystery, until we finally came across this Q&A from the Topeka Capital-Journal:

Question: There is something that looks like a big meat cleaver in the parking lot at S.W. 6th and Jackson. Who did it? Why? What does it represent? - C.H., Topeka.

Answer: That sculpture is one of several artworks along the downtown business district in a collection started by Downtown Topeka Inc. about four years ago, said Susan Mahoney, executive director of DTI. Known as "Art in the Heart of Topeka," it is a joint project of Future Heritage of Topeka Inc., a subsidiary of DTI, and Washburn University. "The piece you refer to is 'Untitled II' and was done by Robert Craig when he was an associate professor of art and chairman of the Department of Art and Design at the University of Iowa," Mahoney said. Craig described his work as one in a series of sculptures, known as "Skeuomorphic Works," derived from utilitarian objects specifically chosen for enlargement to monumental scale. "My interest is equally sustained by awareness that these objects were designed for hand use and they are artifacts of a time when technology was still largely dependent on manual processes," he continued.
Meat Cleaver Stats
Created c. 1990s, moved to downtown Topeka c. 2006
Tips? Photos? Please share:
World's Largest Things
PO Box 101

info@WorldsLargestThings.com
| Home | | Store | | World's Largest List | | What's New |
copyright and trademark ERNCO Value Added Products and World's Largest Things