At Teepee Junction, landmark and memories refreshed
By Erin Castaneda



Teepee Junction - known as a place for Kansas University students to party - is being refurbished.

And as that project nears completion, the teepee's 83-year-old owner, Cliff McDonald, recalls the beginnings of the North Lawrence landmark that was built as part of an "Indian Village."

The 50-foot-tall concrete teepee that stands today was built in 1928. A dance hall and beer garden were added seven years later, all the brainchild of Cliff's father, Frank McDonald.

Cliff grew up with young American Indians, many Haskell Indian Nations University student-athletes, who worked at the village at the intersection of U.S. Highways 24-59 and 24-40.

Frank McDonald worked at Haskell for 13 years in the early 1900s, first as a coach and later as athletic director. McDonald was also a prominent community leader who started McDonald Beverage Co., an Anheuser-Busch distributor, at the end of prohibition in 1933. On the Haskell campus, the football stadium is the legacy of Frank McDonald, who died in 1986.

At the time, Haskell was "in its heyday," said Lori Tapahonso, who guides tours of the university. Haskell's football team was undefeated and was attracting national attention. They played on a dirt field, now the university's practice fields.

"Frank McDonald convinced the school and administrative department mainly that the team should have a facility to match its grandeur," Tapahonso said.

McDonald traveled to American Indian communities asking for donations to build the stadium. He told them they would be "investing in American Indian youth," she said.

He raised about $250,000, and the stadium opened in 1926. More than 6,000 American Indians from across the country visited for a four-day powwow and dedication. And in 1929, the stadium became the first in the state to have lights.

"Today we remember that history," she said. "We have that stadium because of Frank McDonald."

The village

Later, that devotion to the American Indian community in Lawrence was put into the "Indian Village," which Frank McDonald saw as a business opportunity and something that would benefit friends in the Haskell community.

"This was kind of in the middle of no place," Cliff said. "Apparently someone knew the highway was coming through; my dad bought the land and said this is what we're going to do."

Because of his father's strong relationship with the Haskell community, he also wanted to promote American Indian traditions, which was a big draw for tourists on both coasts, Cliff said. The staff wore American Indian tribal garb, made by Cliff's mother, Helen McDonald. They pumped gas, served food to people in their cars and every visitor received an American Indian curio. It proved successful. Today people still stop to look or photograph the teepee, Cliff said.

"I have pictures of cars backed up for a mile to get gasoline here, and that's because of the uniqueness," he said.

Nationwide plans a washout

The dancehall and beer garden continue as an attractive spot for private parties, largely for KU student groups and the alumni association.

Cliff said his father envisioned creating an "Indian Villages" chain across the country. He partnered with Continental Oil Co. to fuel the gas station.

"The Depression came and knocked our plans for nationwide," Cliff said.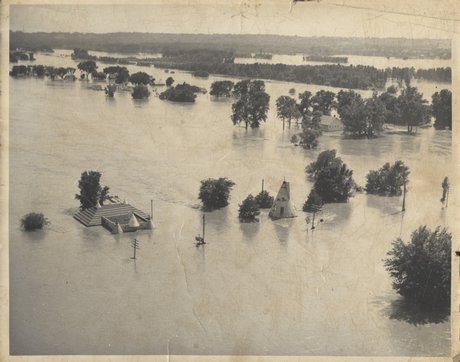 And then the floods came.

Cliff was 11 when a June 5, 1935, flood wiped out three teepee rentals that were on the property.

"The 1951 flood was really a dandy," he said.

They used chains to hold up the remaining structures then. Water reached halfway up the top windows of the teepee, he said.

Two lines were painted on the teepee to mark the floodwaters. The lines themselves are a major attraction adding to the historical significance of the local landmark. Cliff said they will be painted back on soon.

History is what's important

The North Lawrence Indian Village was among numerous such themed gift shops - and motel areas - that sprang up across the country.

"Curio shops are not places of honor for us, so I can't say that I ever liked that place," Tapahonso said of Teepee Junction. "It put it in a whole different light when I realized that it was Frank McDonald, you know, who, that was his concept."

Tapahonso said Frank McDonald was proud of his continued connection to Haskell by employing students and an all-American Indian staff.

"He did wonderful things for our school, but during that era, during that time that was built, that was before we realized that imagery had a damaging effect in a lot of ways on different cultures of the world."

Cliff said he doesn't have any particular use in mind for the teepee once renovation is complete.

Joanne Renfro, Lawrence artist, is repainting the teepee that originally was painted by Haskell student and Navajo Indian Tom Nokie. On one side is a tribesman on a horse, a buffalo and a white dog.

"I'm just trying to keep it as close to the original as possible," said Renfro, adding she expects to be done this week. "The history of the teepee is what's important."


| Home | | Store | | What's New | | Press | | About Us | | Become a Member | | What's Large Where |