World's Largest VanGogh Painting and Easel
Goodland Kansas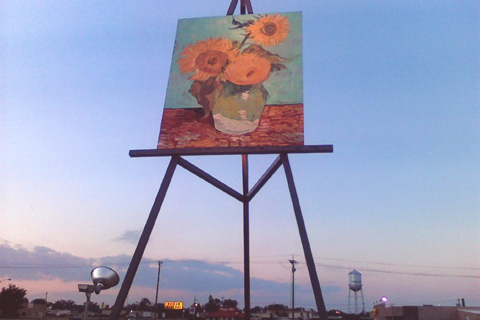 The Big Easel project is the brainchild of artist Cameron Cross. His vision is to put a huge Easel on every continent (sometimes, 2 per continent) that has some connection to either VanGogh or Sunflowers. The Goodland Easel is number three, following erections in Canada and Australia.

Cameron chose Kansas for its Sunflower State status. According to the official site, The Van Gogh Project is a series of Big Easel paintings based on Vincent van Gogh's Sunflower Paintings. Each sculpture consists of one of the seven Sunflower Paintings, measuring 24 feet x 32 feet, which rests on a 80 feet high, 45,000 pound steel easel.

The first Easel was erected in Altona, Canada on October 17, 1998. The second was finished and erected on November 8, 1999 in Emerald, Australia. The third easel was successfully proposed to the city of Goodland and the State of Kansas, USA. Construction began in the spring of 2000.
World's Largest VanGogh Painting and Easel Stats
US Easel erected 2000 - 2001

Welded steel, steel 'canvas', industrial paints
80' high, painting 24' x 32', 45,000 pounds

You can find out more about the Big Easel project on Cameron Cross' site: The Big Easel Project
Tips? Photos? Please share:
World's Largest Things
PO Box 101

info@WorldsLargestThings.com
| Home | | Store | | World's Largest List | | What's New |
copyright and trademark ERNCO Value Added Products and World's Largest Things