World's Largest Blackduck
Blackduck Minnesota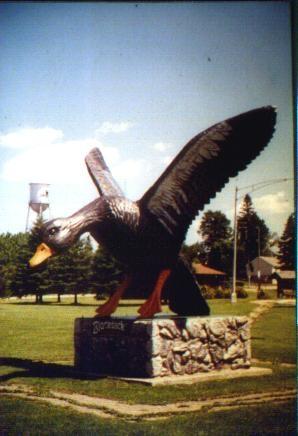 In the early days of tourism and civic pride, Paul Bunyan made a name for Bemidji with articles in Life and the New York Times. The little town of Blackduck knew that bigger is better, and one sure-fire way to get a piece of the limelight was to make their own World's Largest Thing. The logical result was a huge portable bird, build on sled runners so the Blackduck queen could ride the duck through town.

Built in 1938, it traveled to area events, rode in front of Babe the Blue Ox at the Bemidji Winter Carnival, appeared in the St. Paul Winter Carnival, and rested in the off-season at a wayside park. The fiery demise of a nearby creamery prompted the public to move their flammable fowl to a safer spot, between the fire station and the Do Duck Inn.

The town erected an additional Black Duck just off of Highway 71, enticing passers-by to do more than just keep driving. The chamber of commerce has stepped up it's tourism efforts by offering "Where the H*** is Blackduck" bumper stickers on their website, although I think any driver worth his or her salt would realize where they are upon sighting either oversize avian.
World's Largest Blackduck Stats:
Don't have much info on this one... But, I'll post when I know something more!
I'll post more as I get information.
Tips? Photos? Please share:
World's Largest Things
PO Box 101
Lucas, KS 67648

info@worldslargestthings.com
| Home | | Store | | What's New | | What's Large Where | | Become a Member |
copyright and trademark ERNCO Value Added Products and World's Largest Things