World's Largest Goose
Sumner, Missouri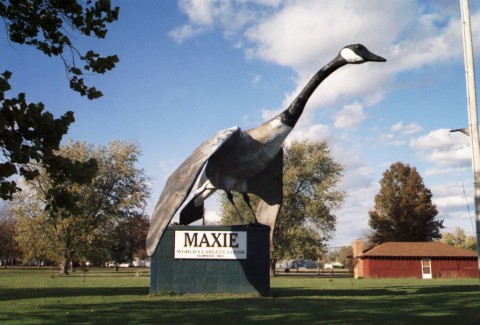 Towering above the lush lands of Sumner Missouri (population 142), Maxie is poised for a mid-migratory landing (or take-off, depending on if your a half-full or half-empty type person.) Erected in 1976 to commemorate the areas proliferation of this fine feathered friend, Maxie manifests herself in the community park, mounted on a cinderblock building that sports the identifying information. She was originally built in Kansas City, and flown in via helicopter for the town's annual Goose Festival.

Her massive wings are down swept, with the wing tips just barely out of reach for the gobs of gawkers taking a gander. With a mighty 65 foot wingspan and elegantly soaring neck, her head could easily peek over a three story building, not a common sight in rural Missouri. But, surrounding farmsteads should be wary, as she'd be able to clean out a standard sized grain silo with just a few pecks of her behemoth beak.

Sumner prides itself on being the Wild Goose Capitol of the World, with a community park that contains Maxie, a community building, slides and swings for mini Maxie fans, and available electric and water hook-ups available for overnight oglers. A massive monument in a small town, Maxie is a true beauty of roadside civic architecture. And, you just might be able to pick up a goose call at the multipurpose general store just down the road if you feel the need to talk turkey. Or gossip goose, to stay on the subject.

If you'd like to stay overnight, it's $15 with electricity, $10 without, please pay at the convenience store down the road.

Since there is a World's Smallest Version of the World's Largest Goose, it was a prime meta-photo opportunity, which always makes me smile. As a side note, the replica for this World's Largest was aquired at the gift shop for the World's Largest Otter in Fergus Falls MN. It was originally a black swan, but since the wings were in the right position, it was transformed into a Canadian Goose with a little trimming and a paint job.

World's Smallest Version of World's Largest Goose visits World's Largest Goose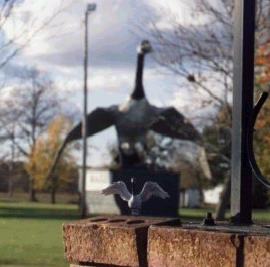 World's Largest Goose Stats

From the back of the postcard:
World's Largest Goose Statue
Sumner, Mo., "Wild Goose Capital of the World," is marked by this statue of a Giant Canada Goose (Branta Canadensis Maxima). Nicknamed "Maxie," the 5500 lb. statue has a wingspan of 65 ft., and honors 11,000 acre Swan Lake Nat'l. Wildlife Refuge, where 200,000 Canadas congregate each fall. Sumner is in N. Central Mo. – drive 12 mi. S.W. from Laclede Jctn. of Mo. Hwy. 139 & U.S. Hwy 36.

Tips? Photos? Please share:
World's Largest Things
PO Box 101
Lucas, KS 67648

info@WorldsLargestThings.com
| Home | | Store | | World's Largest List | | What's New |
copyright and trademark ERNCO Value Added Products and World's Largest Things