Weekly What's Large Where
Weekly What's Large Where
for the week of December 20 - 26, 2009

Last Week's question:

What Midwestern town is named after a Jolly Old Elf?

Photo Credit: World's Largest Things Ephemera Archive

Answer: Santa Claus, Indiana.

In the late 1840s, a small community formed in Southern Indiana. Folks lived and worked there, but couldn't really give specific directions to their town, as it didn't have a name. It remained a nameless town until 1852, on Christmas Eve. The townsfolk gathered for a service at the church, followed by the final town meeting of the year. Once again, the main topic up for discussion was the issue of a town name, which finally found resolve when mysterious bells jangled outside, causing the children to shout "Santa Claus!"

With such a name, you can imagine the amount of letters that would start coming in to the Santa Claus Post Office. In the 1920s, postmaster Jim Martin decided to start answering them, with volunteers coming in to help each year. In the mid 1930s, attorney Milton Harris built a "castle" for selling candy to visitors, then built a toy factory. Other companies started building small toy factories too, then in 1935 Carl A. Barrett opened a park with a 22-foot granite statue of Santa Claus. A midnight brainstorm for naming a town grew to a town-wide identity, and a direction for development.

Louis J. Koch loved holidays, and began making plans to build a memorial to Santa Claus. In 1946, he opened the very first Theme Park, Santa Claus Land, nine years before the building of Disney Land. He continued to build up the town and surrounding communities, creating Christmas Lake, Lake Holly and Lake Noel for swimming, boating, and fishing. More super-sized Santas dot the landscape, welcoming you to various businesses and attractions, with the original 1935 statue still standing downtown. It's an amassing of Holiday Cheer, in a small formerly-nameless town that dared to Think Big.

That's it for the 2009 Weekly What's Large Where column. Join us in January for a whole new slew, including more international features. You can find more information about the World's Largest Santa and other World's Largest Things online at www.WorldsLargestThings.com, or receive Weekly What's Large Where in your email inbox by becoming a member. Thank you for Living Large!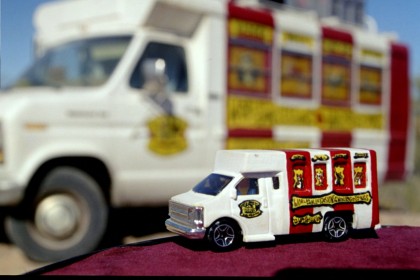 Want to run the Weekly What's Large Where column in your local paper?
Contact:
press@worldslargestthings.com
| Home || Store || What's New || What's Large Where || Become a Member || Press |
Copyright and Trademark 2009 ERNCO Value Added Products and World's Largest Things