Chatty Belle, World's Largest Talking Cow
Neillsville Wisconsin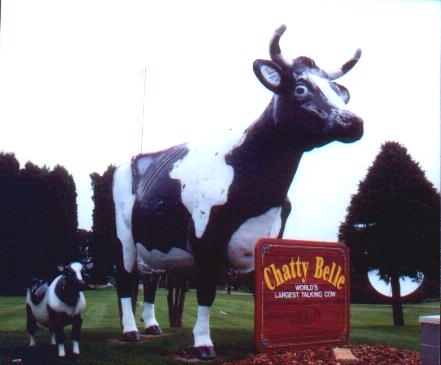 Right by a great googie monument from the 1964 World's Fair (the Wisconsin Pavillion, now operated as a radio station) you'll find not one but TWO World's Largest Things - The World's Largest Replica Cheese and the World's Largest Talking Cow, Chatty Belle.

Chatty Belle is a holstein fitted with a voice box - so, although she's not quite as monumental as Salem Sue in North Dakota, she is the World's Largest Talking Cow. (See how clever that is?) Unfortunately, she's not had the ability to speak whenever I'm there. The last time through in 2002, there was a little note stuck in the speaker box from a disappointed grandmother who had been bringing her granddaughter by to hear the cow talk and had been sadly un-chatted by Chatty Belle.

But, according to Wisconsin Curiosities, here's the gist of what she says:

"Hi, so nice to see you. My name is Chatty Belle and beside me is my son, bullet. Bullet doesn't talk yet but he's learning. What's your name? Well, nice to meet you. Did you know I"m the world's largest talking cow? I'm 16 feet high at the shoulders and 20 feet long, seven times as large as the average Holstein."

There are other cow replicas scattered throughout Wisconsin (no doubt made by the same company, Fast Sign out of Sparta WI) but none of htem have the advantave of a coin-operated voice box.

World's Largest Talking Cow Stats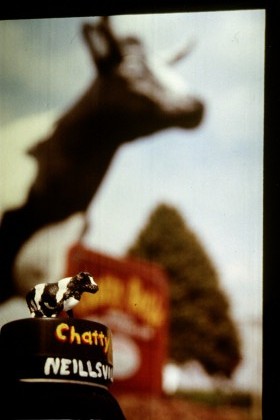 Like the cow said, 16 feet high and 20 feet long. Fiberglass and broken voicebox.

Tips? Photos? Please share:
World's Largest Things
PO Box 101
Lucas, KS 67648

info@worldslargestthings.com
| Home | | Store | | What's New | | What's Large Where | | Become a Member |
copyright and trademark ERNCO Value Added Products and World's Largest Things