World's Largest Six-Pack
LaCrosse, Wisconsin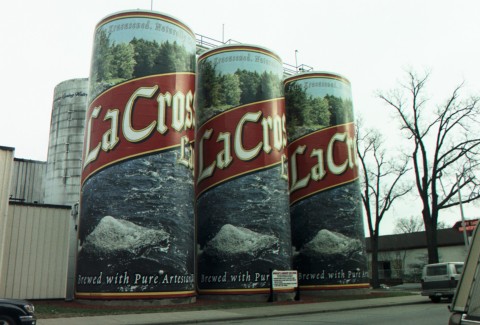 Luckily, people DO realize what they've got when it comes to World's Largest Things and their preservation. The World's Largest Six-Pack had been painted over since the original painters/proprietors G. Heileman Brewing Company went out of business. Needless to say, it was horribly disappointing to travelers like me who make World's Largest Things the compass points. So, when I visited over Thanksgiving 2003, I found out the facility had re-established itself as the City Brewery, which was the original name when it first opened in 1858 and had restored the Six-Pack to it's full potential.

Unfortunately, the new tanks aren't quite as authentic as the originals - instead of investing in a new paint job, the brewery folks opted to have large vinyls constructed with the logo. And, they only covered the facing tanks - a walk around the back reveals the same old over-painted tanks that I've been gazing at in disappointment for years (as a passer-by...). I realize that this was the most immediate and cost-effective way to ressurect the World's Largest Six-Pack, but I feel I'm not alone when I say it's a sad reproduction of the original dedication and attention to detail of the first Six-Pack graphic treatment.

Since the tanks are actually part of the brewery, they do hold beer, and the six-pack is actually a full six-pack. And, in the gift shop, you can get a pressure packed T-Shirt formed in the shape of a beer can, next door to a bar serving from the brewery's extra-large store.

From an attentive web-surfing tour guide from the brewery: "...if you want another statistic about the six pack... Starting the day you were born, if you were to drink a 12oz. cup of beer, on the hour, every hour, 24 hours a day, 7 days a week, you'd have to live to be about 120 years old to finish just one of the World's Largest Six Pack cans. ...as a tour guide at the brewery, I take pride in the accuracy and beauty of the City Brewery. After all... "We don't aim to make the most beer, only the best.""


---
World's Largest Six-Pack Stats
From the postcard:
City Brewery, 925 South Third Street, La Crosse Wisconsin 54601
City Brewery invites you to tour our brewery and see the return of the WORLD'S LARGEST SIX PACK. Originally constructed in 1969, these six tanks hold 688,200 barrels of beer - enough to fill 7,340,796 cans. Placed end to end, these cans would run 565 miles, enough to supply one person a six pack a day for 3,351 years! Call for tour schedule: 785-4283. Visit our web site: www.citybrewery.com
Tips? Photos? Please share:
World's Largest Things
PO Box 101
Lucas, KS 67648

info@worldslargestthings.com
| Home | | Store | | What's New | | What's Large Where | | Become a Member |
copyright and trademark ERNCO Value Added Products and World's Largest Things