The World's Largest Collection
of the World's Smallest Versions
of the World's Largest Things
Traveling Roadside Attraction and Museum
... is supported by members and donations, speaking engagements and community projects.
Become a Member, or give a TAX DEDUCTIBLE donation to further the outreach components
of the Traveling Roadside Attraction and Museum
We will provide you with the appropriate IRS form for documentation of donations over $250, or upon request for lessor amounts.
Your Support is Greatly Appreciated!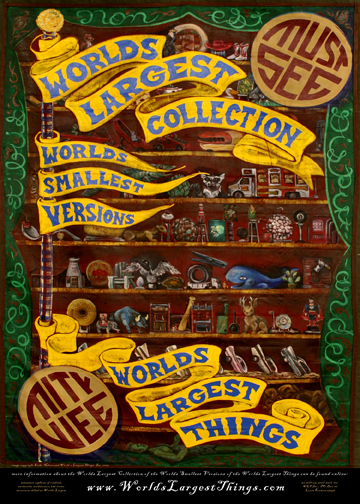 Current Project: Bringing part of the collection to Conan O'Brien's Show on TBS!

We're heading out mid-December for a December 22nd Tape Date.

The show should air that day, so I aim to make y'all proud...

The producers and staff are already excited about it, and so is the hometown of Lucas KS
Half of all new memberships and all of your PayPal donations
go directly into the WLCoWSVoWLT Sideshow Extravaganza travel and development fund.
World's Largest Things
PO Box 101
Lucas, KS 67648-0101
785-760-0826

info@WorldsLargestThings.com
| Home || What's New | | Store | | What's Large Where | | Become a Member | | Press | | About Us |
copyright and trademark 2010 Worlds Largest Things, Incorporated