World's Largest Vess Bottle
St. Louis Missouri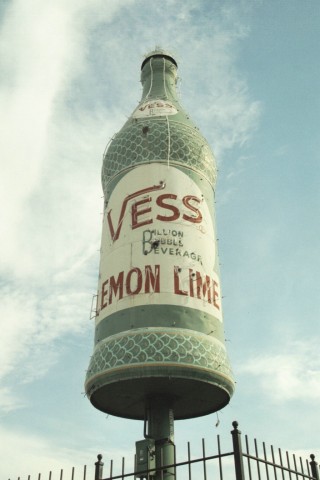 The Vess Bottle has seen better days, but then again, it will soon reign in its former splendor over a whole new district. The people who bought the property that the Vess Bottle sits on has big plans: creating the Bottle District (www.thebottledistrict.com), just off of downtown, in what was an area of warehouses and tenaments.

The bottle itself as about 12' tall, with broken neon that used to outline the major features. Built by the same people who built the mini-Catsup bottles that also used to dot the St. Louis landscape, the Vess bottle is another advertising gem.

While shooting a series of Ch. 5 Morning Show spots at the Vess bottle, the owner came over and chatted for a bit. Evidently, restoration plans are already in the works, and the neon itself will be restored by the granddaughter of the original sign people - she's still in the neon business, and jumped at the chance to continue a family legacy.


The bottle district has a double whammy to it - the Vess bottle will become a new icon, but the name originally stems from the older history of this St. Louis niche. It was a working-class part of town, and the people used to dump their refuse down the privy. Year after year of full privys led to an area rich in a sort of St. Louis archeology for the turn-of-the-century working class. Thousands of hundred-year-old bottles have been recovered from around the site, giving the Bottle District it's name.

All to be realized under the glow of the World's Largest Bottle of Vess Soda - the Billion Bubble Beverage. It's even my favorite flavor... Lemon Lime.


World's Largest Vess Bottle Stats
Steel and neon, originally built by the W.E. Caldwell Tank Company (who also produced
the 120' tall Louisville Baseball Bat and 70'1" Collinsville Catsup bottle)

12', plus height of the post

Neon done originally by:

**NEW** February 21st story featuring the Vess Bottle from the St. Louis Post-Dispatch: Billion Bubble Baby by Jeff Daniel.

I'll post more as I get information.
Tips? Photos? Please share:
World's Largest Things
PO Box 101
Lucas, KS 67648

info@worldslargestthings.com
| Home | | Store | | Eastern Tour | | What's Large Where | | What's New | | Become a Member |
Copyright and Trademark 2005 World's Largest Things